From the Office of the Chairman of the Progressive Liberal PartyOn the 64th Anniversary of the founding of the PLP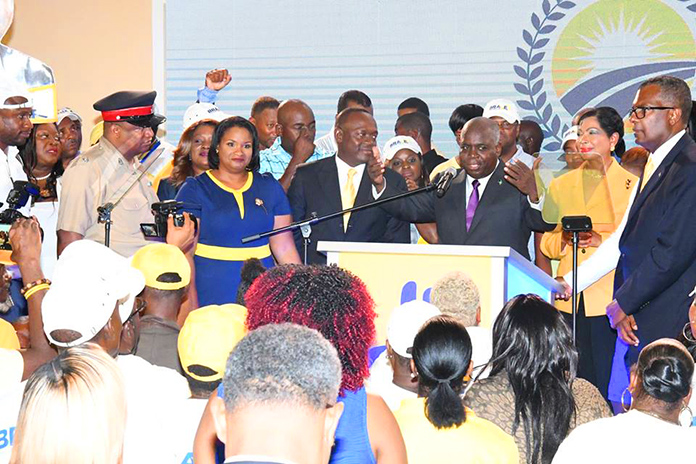 23 November 2017
Thursday 23 November is the 64th anniversary of the Progressive Liberal Party. Today marks an important anniversary in the life of our party and our nation. We pay tribute to the founders of the party, the late Sir Henry Milton Taylor; the late Cyril St. John Stevenson and the late William W. Cartwright for their courage and their foresight. We remember our first leader and the father of the nation Sir Lynden O Pindling. We remember our former leader Perry Christie. We remember all the countless men and women who struggled to bring us through.
Built on the philosophical foundation of social justice, the PLP challenged the social order of the day and through a grass roots movement, led The Bahamas to Majority Rule on the 10th January 1967 and Independence on the 10th July 1973.
Building on the economic foundation and the twin pillars of tourism and financial services, the Bahamian people under the leadership of a Progressive Liberal Party Government built tourism into a multi-billion dollar industry. Having recorded tourism expenditures in excess of one billion dollars in 1985, The Bahamas never looked back in its quest to position The Bahamas as a premier tourism destination, employing well over 100,000 jobs and accounting for sixty percent of the local economy.
The PLP established the Central Bank of The Bahamas; the University of The Bahamas; Bahamasair; the Royal Bahamas Defence Force; the National Insurance Board; Urban Renewal; Bahamas Agricultural Marine Science Institute (BAMSI) and National Health Insurance. Our policy of Bahamianization is largely responsible for the middle and professional classes while it empowered the Bahamian merchant class beyond their wildest dreams.
As we undergo internal constitutional reform, our work on behalf of the Bahamian people continues. The Enterprise Bill currently before Parliament threatens to undermine the hard fought and largely successful policy of Bahamianization. NHI is being gutted even though over 200,000 Bahamians are without health insurance. Economic empowerment, crime, energy reform, environmental protection, food security and immigration reform remain the priorities in the next PLP.
There is no job security in the public sector as job training has given way to this unconstitutional and baneful practice of victor's justice and mass terminations driven purely by the exercise of one's constitutionally guaranteed right of association.
The struggle continues. Let us remember our history and seek to build upon it. We are about creating the best little nation on earth.
We congratulate all PLPs who are still apart of the struggle. We made it these 64 years but we have miles to go before we sleep.
We are as committed as ever in our righteous fight for the poor, the weak, the displaced, the voiceless and the sovereign rights of all Bahamians.
May Almighty God continue to bless the Progressive Liberal Party and the Commonwealth of The Bahamas.
On behalf of our Leader Philip Brave Davis and all colleagues thank you to the Bahamian people at large for their support.
PLP ALL THE WAY!