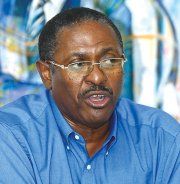 Remarks Bradley B. Roberts
National Chairman – Progressive Liberal Party
Installation Luncheon of the Women's Branch of the PLP
British Colonial Hilton
23rd September 2012
Mr. Party Leader and Mrs. Christie,
Mr. Deputy Leader and Mrs. Davis
Parliamentarians, Stalwart Councilors, party officers, members and friends, it is an honour and a privilege to join you this afternoon in congratulating the newest executive team of the Women's Branch of New Providence.
I also join you, The Progressive Liberal Party family and the nation at large in mourning the passing our dear brother the Hon. Paul L. Adderley who was the longest serving Attorney General in an independent Bahamas; he served with distinction in that office for seventeen years. A memorial service will be held at the Party's headquarters on Tuesday evening at 6pm to celebrate his life and for us to pay our last respects.
Mr. Adderley was a legal scholar and was widely admired for his intellectual prowess and uncanny ability to interpret the law. Paul was a formidable debater in the halls of Parliament and his character and reputation as a public servant were above reproach. Yes, the passing of this Stalwart Councilor and iconic figure in the political development of The Bahamas saddens us all but Paul surely left an indelible legacy of excellence on this country and for that I am sure we are all happy and thankful to Almighty God.
Ladies and gentlemen, in twenty-three days the people of North Abaco will usher in a brand new day in their political leadership. Hubert Ingraham, who I term "the drive by Member of Parliament," lorded over those people for thirty-five years with the heavy hand of pettiness and spitefulness and a culture of waste of public funds – but that era has come to an end
A new day will dawn with Mr. Renardo Curry, a fine and accomplished son of the soil. He is articulate, well-grounded and courageous to take on any challenge because he is a proven champion of his people. He understands his constituency, island and country. Further, he knows what is at stake and what is needed to restore the fortunes of our great country, settlement by settlement and constituency by constituency having served as a member of the council of local government. He has already courageously taken the former Prime Minister to task, as he almost upset his bid to retain his seat. I say again that the only saving factor for Hubert Ingraham was the FNM's last minute manipulation of the fifty-two week jobs program and the millions of dollars pumped into the Jump Start Program.
Renardo will lead the way in rolling out the properly structured and comprehensive national jobs training program as envisioned by the PLP government and will expedite the infrastructure maintenance and development program for that island, especially the roads and the vexing infrastructural deficiencies of BEC, resulting in constant black outs. Even our strategy session in Marsh Harbour on Saturday morning was not spared this nuisance. He will continue the economic development and jobs creation program started by the last Christie administration. The Bakers Bay and Winding Bay development created more than 500 full time and well-paying jobs in North Abaco and is a clear testament to our commitment to creating jobs for our people. Renardo is our man to take North Abaco to the next level.
As for the FNM candidate, like many Bahamians I too have asked the question, "who is Greg Gomez?" We are advised that he has lived outside of the Bahamas for more than eight years. Our search of his employment in the US has proven fruitless. It is clear that in the mind of Hubert Ingraham, Gomez is special as he delayed his resignation to allow Gomez to meet the residency requirement under the Elections Act.
I strongly believe that voters are entitled to know detailed information about each candidate so that they can make an informed electoral decision based on the facts before them.
So those of you with family and friends living in Abaco, please encourage them to place their support behind Renardo Curry. Where possible, please encourage them to offer of their time and talents to the Curry campaign. North Abaco was a PLP seat and it is important that North Abaco returns to the PLP fold.
I wish to end with a few words of exhortation to the Women's Branch. As I said in my message to the Branch, I reiterate that this incoming executive team has an awesome obligation to continue the legacy of this Branch as luminaries such as Her Excellency Beryl Hanna, Effie Walkes and Teleta Strachan created some fifty years ago. You must educate new party members and the public about the legacy and philosophy of the PLP; modernize the present PLP through the advancement of innovative ideas and policy proposals; continue to advance the causes of women in this country and strengthen its relationship with the communities throughout the length and breadth of The Bahamas.
With the reintroduction of the breast cancer awareness and screening initiative by the Ministry of Health, the new Mammogram Testing machines  and the safety net program introduced by the Ministry of Social Services, I urge you to NGO social partners and fierce advocates as your PLP government works feverishly to address the health and social challenges facing women and their vulnerable children across the length and breadth of this country. You are assured of my full and unconditional support.
So on behalf of the office of the national chairman, I congratulate the newest officers of the PLP's women's branch and may Almighty God imbue you with His abundance of wisdom as you continue with this important work on behalf of your party and your country.