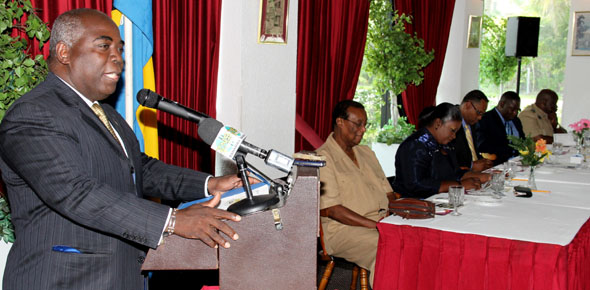 FREEPORT, G.B. – Urban Renewal is one vehicle whereby everyone can make a contribution to nation building by impacting people's lives in a very positive way says Deputy Prime Minister and Minister for Works and Urban Development, the Hon. Philip "Brave" Davis.
The Deputy Prime Minister was in Grand Bahama September 24 to participate in an Urban Renewal 2.0 Grand Bahama Seminar. Also joining Mr. Davis at the one-day event held at the Ruby Swiss Restaurant was the National Co-chairman for the Urban Renewal Commission, Algernon Allen, and the Hon. Dr. Michael Darville, Minister for Grand Bahama.
The Seminar, which has as its theme "Building Stronger Communities by Transforming Lives," brought together Urban Renewal workers from throughout Grand Bahama and Police and Defence Force officers attached to the various centres.
Mr. Davis told the gathering that one of the most fundamental obligations of any government is to produce an environment where its citizens are safe in their homes, in their possessions and free from the fear of crime.
"Urban Renewal again, is that vehicle that will assist us in bringing about that transformative method of discharging that responsibility that government has to its citizens," he said.
He pointed out that there is a difference when one compares New Providence to Grand Bahama, adding that over the past four years there was a sharp increase in violent crime in the capital.
"Last year was the bloodiest period in the history of The Bahamas and it has nothing to do with who is in charge or not in charge, we have come to accept that.
"We thought, and we kept saying that one means of turning back this tide of violent behaviour is direct intervention in the communities by the police working hand and hand with all of the relevant government agencies that deliver the kind of services to people that was required.
"Others thought a different way of doing it, but I am happy to say that over the last four months, through the intervention of yourselves, workers, the police in particular, and in Nassau in particular where the police has taken the major lead because of the seriousness of what was going on in Nassau, that the trend has gone.
"There is clear evidence, clear evidence that violent crimes are trending downward. Crimes in particular are trending downwards and we don't want to blow any horns about it because it is nothing for us to blow our horns about.  The only horn I know is Urban Renewal is working," the Deputy Prime Minister said.
"It just cannot fail, you must not allow it to fail and we must ensure that at the end of the day we build a better community," Mr. Davis added.
He told Urban Renewal workers that part of their discussion during the seminar will focus on attitudes and professionalisms in the workplace.
"That is quite important because in transforming lives, attitude is a key element in being able to do that.  And, it sometimes requires a recalibration of our mindset as to how we greet and meet people.
"An essential element of the execution of Urban Renewal 2.0 is to ensure that we engage persons from the community to be able to execute the programmes of Urban Renewal. So each and every one of you would have come from the community in which the centre is set up, or you should be, because that lends itself to helping," he said.
He told the group that as they execute their work the overarching principle in transforming lives is being able to identify love.
"When you meet and greet your neighbours, when you meet and greet your friends, when you meet and greet the persons that are going to be out there who you are trying to help, you do that with love.  You understand the power of love and in exercising that love you don't do it by pursuing the love of power.
"Sometimes because we have the uniform on, we have the power, but the use of that power is not to love the power, but to exercise the power of love," he told the gathering.