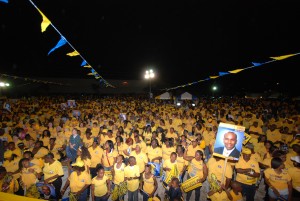 Statement
Progressive Liberal Party
Ingraham continues to disrespect Bahamians
11th May 2012
FOR IMMEDIATE RELEASE
Hubert Ingraham suffered a massive defeat in the general elections. What is really pathetic is that Bahamians spoke so loudly and he still has not heard them — just as he was deaf to the needs of people during his years in government.
Only someone who lives behind high gates could afford to ignore the nation's skyrocketing crime crisis, but Hubert Ingraham ignored it during his last term and continues to ignore it to this day, instead fabricating bizarre explanations about his loss rather than face the truth about his failed leadership.
Ingraham and Minnis should be aware that the way forward for their party is not more lies. They would do better to reflect on the their party's failure to keep people safe, and their failure to invest in and believe in Bahamians even as they ran up the national debt to give hundreds of millions in contracts to foreigners.
The people spoke on May 7th — for once, they must stop the lies long enough to listen.