Archdeacon I Ranfurly Brown says: Why should I therefore give support to leaders who have no respect for me?!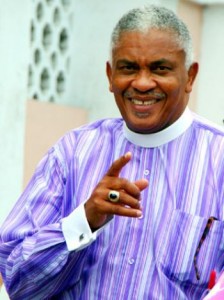 Nassau, Bahamas — A no-nonsense Anglican priest and PLP supporter has laid a sharp rebuke on Prime Minister Rt. Hon Perry Christie and the family of the late Bismark Coakley following what he titled "Grave Disrespect" in a pastoral letter to the parish Sunday morning.
Fr. Brown almost rent his garments during a funeral service one week ago after leaders, close friends and business associates of Coakley spoke for almost an hour in tributes.
Fr. Brown wrote: "The speakers did not adhere to the request, even the Honorable Prime Minister of this Country. What grave disrespect to the Church!"
The Rector of St. Agnes Anglican Church added, "I was at the back of the church chiding an individual about showing respect to the leader of this country; lo and behold; none of it was shown by him to the church!….Why should I therefore give support to leaders who have no respect for me? Obviously they can do without my support!"
The pastoral letter concluded with new rules for the church during funerals.
Fr. Brown, who also serves around the table of the Bishop's Cabinet as an Archdeacon, has been a longstanding member of the PLP and a fixture at National Conventions of the historic Independence Party. What do these new developments suggest about his support today? Could this be a test of what may come inside the PLP this November 2015?
BP publishes this sharp rebuke and wonders if the PM, who is like a member of St. Agnes Parish, will now return to his roots in St. George's in the Valley? Only time will tell.
We report yinner decide!