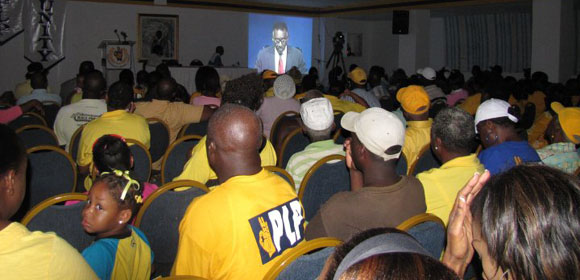 Nassau, Bahamas — While FNMs gathered in prayer and reflection celebrating 18 years since being elected for the first time to office, this was the scene at Gambier House this week as PLP gathered to ratified two candidate Jerome Gomez and Dr. Danny Johnson.
Johnson will come up against CM#4, Desmond Bannister, in Carmichael and Gomez will fight the able Dr. Hubert Minnis in Killarney. This will be a race BP will have plenty to say on for we have already made our decision as to who our endorsed candidates will be.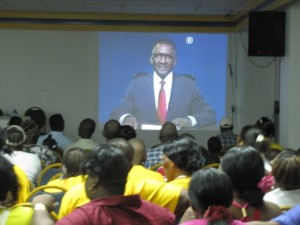 What was interesting about this meeting however, was the fact that the PLP decided to live in the past as they featured a video of the late Sir Lynden Pindling. We found this indeed strange. Why would the PLP of 2010 seek to invoke the spirit of Sir Lynden at a time of national crisis and a period of global meltdown.
Where is the INSPIRED MESSENGER OF THE PLP? Is Pindling still in-charge of the organization running it from the grave?

Will the PLP expect the entire nation to sit down in 2010 – 12 amidst all this madness and listen to Pindling for the solutions to take the country forward? MOSES IS DEAD! We say again, where is the INSPIRED MESSENGER OF THE PLP?
Could you imagine the FNM of 2010 playing reruns of the late Sir Cecil Wallace Whitflield? WHAT A LAUGHINGSTOCK WOULD THE GOVERNING PARTY BE?
Right now the SNITCH cooked up this idea.