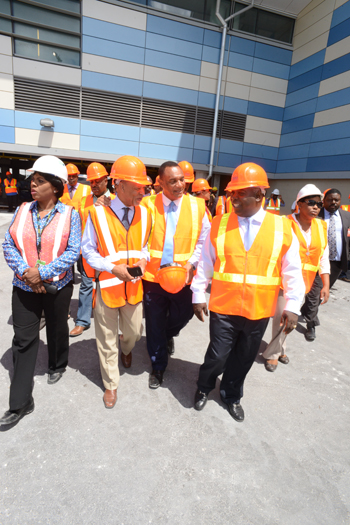 NASSAU, The Bahamas — Prime Minister the Rt. Hon. Perry G. Christie and several Cabinet Ministers toured stage III and the final phase of the Lynden Pindling International Airport Redevelopment Project, which included the Domestic/International Departures and Domestic Arrivals Terminal, Friday, August 23.
Prime Minister Christie said some $400 million was invested on the Lynden Pindling International Airport Redevelopment Project as a result of the negative observation that the airport was not keeping up with the improvements and creation of new resorts on the island of New Providence.
However, he also noted that the Government cannot neglect the other islands of The Bahamas, and will have to make improvements to their airports and airstrips as well.
"When a Caribbean prime minister sits in his island nation and has to plan or build a new airport, I as Prime Minister of The Bahamas, have to build or expand 25 or 35 airports or airstrips."
Deputy Prime Minister and Minister of Works and Urban Development the Hon. Philip Davis; Minister of Transport and Aviation the Hon. Glenys Hanna-Martin; Minister of Tourism the Hon. Obie Wilchcombe; Minister of Labour and Insurance the Hon. Shane Gibson and Minister of State in the Ministry of Transport and Aviation the Hon. Hope Strachan also toured the airport.
Minister Hanna-Martin said the redeveloped of the airport would help the country to regain its prominence in the tourism market and also improve the experience of domestic travellers.
"We seek to enhance domestic travel for our own people, which will connect us even more deeply than we already are as an archipelagic people."
Vernice Walkine, President and CEO, Nassau Airport Development Company (NAD) said, "The Government of The Bahamas gave NAD a mandate to oversee the $409.5 million airport redevelopment project.  NAD broke ground on the project in July 2009."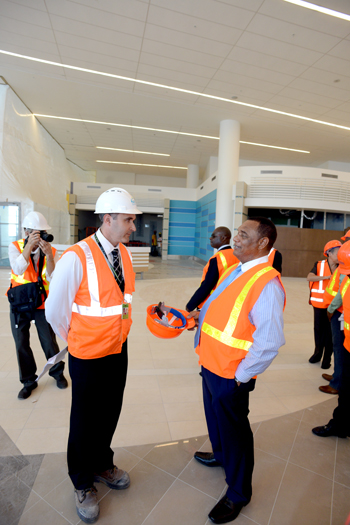 Ms. Walkine noted that approximately $105 million of construction contracts have been awarded to Bahamian firms to date.
She explained that the final stage of the project, which includes the Domestic/International Departures and Domestic Arrivals Terminal, would have a total area of 105,000 square feet.  It is 90 per cent complete and will open in October 2013.
It came in at a budget of $83.5 million and will feature nine retail locations, five restaurants, bars and lounges, a bank and post office.
Ms. Walkine said at the peak of construction there were more than 350 workers on the site.
"In July there were 303 workers on the site, with 74 per cent Bahamian labour to date.
"When finished, the square footage of the entire airport complex will total 606,000 square feet, with an additional one million square foot of aircraft operating surface."
She said the airport will increase in size by 24 per cent and will be capable of accommodating 50 per cent more passengers.
There will also be 10 aircraft bridges and 30 aircraft ground loading positions at the completion.