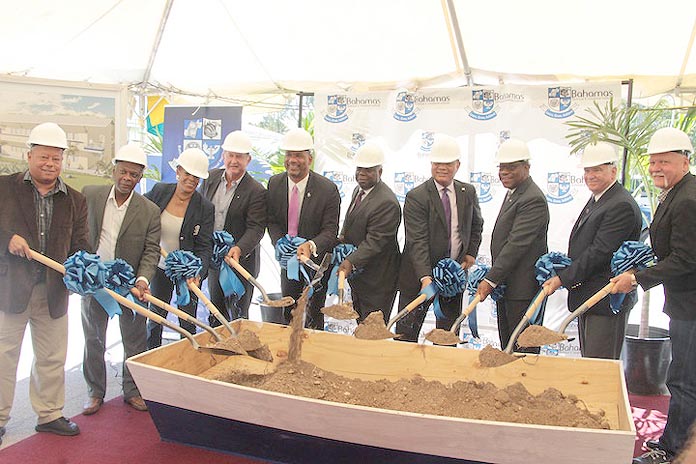 NASSAU, The Bahamas — Prime Minister and Minister of Finance the Rt. Hon. Perry Christie said, on August 25, 2016, that the groundbreaking of the Bahamas Technical and Vocational Institute's (BTVI) state-of-the-art block with "smart" technologically-enhanced classrooms represented something so important to The Bahamas that both he and Deputy Prime Minister and Minister of Works and Urban Development the Hon. Philip "Brave" Davis had to be present for the event.
"It is indicative of a recognition that The Bahamas is significantly challenged, when it comes to technical and vocational education and qualifications," Prime Minister Christie said.
"When you add information technology to that as another component, and you try to understand what we mean by 'smart' classrooms, then you are talking about preparing young people for a future that must take into consideration not just what is happening in The Bahamas; but what is happening in the region and what is happening in the world," he added.
Also taking part in the ceremony was Minister of Education, Science and Technology the Hon. Jerome Fitzgerald. The two-storey block will house eight new "smart" classrooms, two information technology labs, a staff room and restroom facilities.
Prime Minister Christie noted that when one looks at the businesspersons, educators and other stakeholders who play a role in BTVI, one would see people who realize that there is an "acute need" for such training in the future development of The Bahamas.
He added that it is critical that persons understand that when BTVI started, there was "this compelling urgency" to find skilled workers who could fit the needs of the employment market at that time.
"We continue to need — as our economy demands — skills for the workforce that are significantly tied to progress," he said.
Prime Minister Christie pointed out that the region is significantly challenged with the negative reality of unemployment amongst young people.
"It represents a challenge to the stability of a country," he said.
He also made mention of the "talent drain" in the region, where countries such as the United States attract talented and skilled young people to bolster their own national strengths.
Prime Minister Christie said, "We have to continue to adapt to the modern ways of doing business, to the innovations that are coming in."
He added that when one looks at the process that will be initiated with the new block — even when considering its cutting-edge construction process — he wanted to also encourage the use of apprentice and BTVI students in the creation of it so that "gifted students" would be incentivized into "knowing that they have a future".
"What is important here is this: that we redouble our efforts, recognizing that to the extent that there is unemployment amongst young people — to that extent you are institutionalizing despair," Prime Minister Christie said. "You are shutting off hope; and the whole basis of life is the belief that things will get better for you; and the principles of life — working hard, being honest — they are not challenged by the failure of the country to accommodate with dignity the hope that is necessary for these young people to possess — that is hope tied to the positive belief that there is a place for me in The Bahamas. I don't have to resort to incorrect behaviour to get ahead in life."
Prime Minister said to those who administer BTVI that he wanted to encourage them because every time they produce a graduate, they are contributing to the technical capacity of The Bahamas.
"We live in a wonderful country," Prime Minister Christie said. "There are profound challenges that exist in our country, as they do all over the world; but we have an opportunity to progress ourselves to being the best little country in the world."