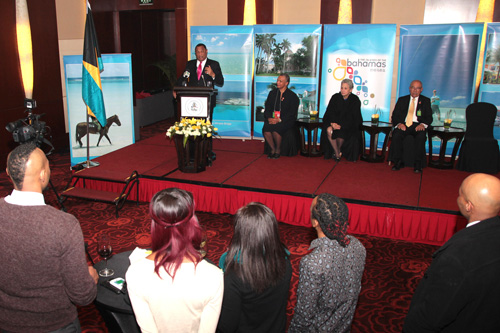 BEIJING, People's Republic of China — Prime Minister of The Bahamas the Rt. Hon. Perry G. Christie encouraged Bahamian students studying in the People's Republic of China (PRC) that once they return home, they will find new opportunities available to them.
"For me, coming here and meeting with you reminds me so much of the kind of country that we have," Prime Minister Christie told the students and Bahamian stakeholders in attendance at the meeting event, on January 8, 2015, at the Beijing Marriott Northeast, in Beijing.
"It is a country of almost 400,000 people. It is a country where it's capital, on New Providence, is going through extraordinary expansion in tourism and financial services."
Prime Minister Christie was the head of a delegation to the first ministerial meeting of the China-CELAC (Community of Latin American and Caribbean States) Forum, held in Beijing, January 8 – 9. Also in the delegation were Minister of Foreign Affairs the Hon. Fred Mitchell, Minister of Tourism the Hon. Obie Wilchcombe and Minister of Transport and Aviation the Hon. Glenys Hanna Martin. Prime Minister Christie was also representing the region as the Chair of the Caribbean Community (CARICOM), a position he took up on January 1, 2015.
According to the Ministry of Foreign Affairs of The Bahamas, the ministerial delegation was slated to be supported by a team from the Ministry of Foreign Affairs headed by Eugene Torchon Newry and Senior Policy Advisor in the Office of the Prime Minister Sir Baltron Bethel.
Official delegation members also met with PRC PresidentXi Jinpingand Premier Li Keqiang.
Also present at the meeting event were Charge d'Affaires for the Embassy of the Commonwealth of The Bahamas in Beijing, China, Ms. Sheila Carey and Celsus Williams, attaché and vice consul.
Prime Minister Christie added that as The Bahamas goes through such developments in tourism, financial services and many other areas, the students will find, that as they qualify themselves, there will be opportunities even on different islands.
"We are successfully upgrading the local economy in Bimini, in Abaco, in Grand Bahama — and we are moving progressively in Eleuthera and Exuma," he said.
Prime Minister Christie pointed out the Bahamas Agriculture and Marine Science Institute (BAMSI) in Andros as a positive development to teach Bahamians and create a commercial arm in each school there, for example, in agriculture and marine farming.
Prime Minister Christie also briefed the students on the educational and development partnerships — including one with an American university — that are coming on stream to aid in the strengthening of the economy and productivity of Andros.
"What you are going to find, therefore, is that a lot of activity is going to take place in Andros, new levels of economic activities will take place, new jobs will be created and this augurs well for our country," Prime Minister Christie said.
Prime Minister said that as The Bahamas is a country where tourism accounts for about 70 percent of the economic activity — direct and indirect job numbers, the Government is also looking at different segments to deepen and diversify the tourism product and he noted the importance of cultural tourism.
"People come for the beaches, people come for the sand and sea; but we decided that we have to emphasize and lift up cultural tourism," he said.
He explained that The Bahamas has its food, its music and performance components such as Junkanoo and he went deeper into the aspect of heritage tourism.
"I indicated, for example, that we need to be able to resurrect even the slave plantations that existed there to show our people, to trace our history," Prime Minister Christie said.
He pointed to the island of San Salvador and the discovery of a diary of a slave owner on the Farquharson Estate, that shows "living evidence" of an 18-month glimpse into daily life on a plantation.
"That is not something we should run away from," he added, speaking of the country's slavery past.
"What we have to do is recognise in our country whatever our historical attributes are," Minister Christie said.
Prime Minister Christie also noted medical and religious tourism as other aspects of the tourism product that are being looked at for further development.
He congratulated and commended the students for choosing to pursue an education in a country that they are also being exposed to and, for many students, learning a foreign language.
"As you engage in your masters or your doctorate — or whatever level of professional expertise you decide to develop — there is a place in The Bahamas for you," Prime Minister Christie said.
He said that his Government is trying to ensure that people like the students can come back to The Bahamas and have "meaningful jobs" or are afforded economic opportunities to use their own "innovation and creative skills" to go into business.
"The idea is to be able to encourage people like yourselves, to look at your country and make a determination as to how to make it better," Prime Minister Christie said.
"I want you to be excited about returning home, about the opportunities that will exist there for you," he said. "It will and is going to depend on you to be a part of your country, to be a stakeholder in your country, and say 'I am going to make it better'."
"What is going to be important to us is that those of you who can dream — dream about being owners, dream about being entrepreneurs, dream about developing businesses in your country — those are the people we are (especially) looking for to come back home."
VAT PSA 14 from King Of Hearts Media on Vimeo.
PSA 18 from King Of Hearts Media on Vimeo.