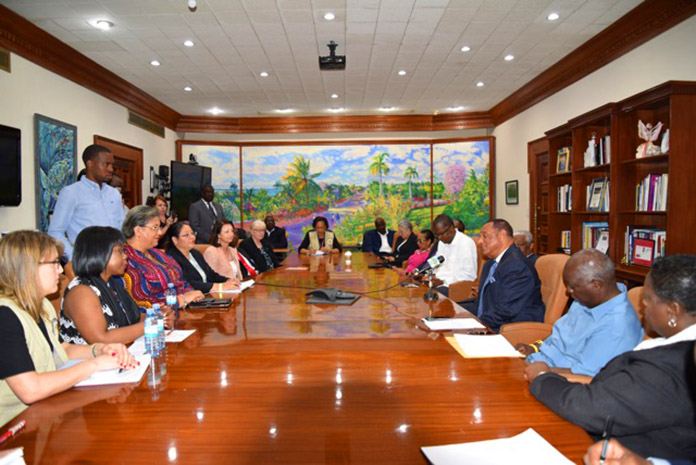 NASSAU, The Bahamas — During a courtesy call at the Office of the Prime Minister, on May 8, 2017, Prime Minister and Minister of Finance the Rt. Hon. Perry Christie welcomed international election observer teams to The Bahamas and gave those present a brief insight on the importance of elections in the archipelagic nation.
"We fiercely and jealously guard our democracy. We have demonstrated now — on a number of occasions — the capacity to change and to change peacefully," Prime Minister Christie said.
The election observer missions are from the Commonwealth, The Caribbean Community (CARICOM), the Organization of American States, and the United States, and are in the country for the May 10, 2017, General Election. This is the second time that observer teams were invited to The Bahamas for the general elections, with the first being the 2012 General Election.
Prime Minister Christie pointed out that Bahamians take pride in the fact that they "vigourously" participate in the elections. He added that, because The Bahamas is a chain of islands, one would be somewhat surprised by the extent to which the Government has been able to communicate nationwide the responsibility of voting.
"We anticipate that there would be no difference in this election," Prime Minister Christie said. "We expect it to be a peaceful election."
Prime Minister Christie noted that if there is a transition — even if it is just his formation of a new Government — the country expects its democracy to respond positively and strongly, as it has always done.
"So, I welcome you," Prime Minister Christie said. "I trust that you are accommodated properly and that, during your visits to wherever you are going in The Bahamas, that you see enough to satisfy yourselves that we have a dynamic and vibrant democracy in which the people are encouraged to participate — and we have their full participation."