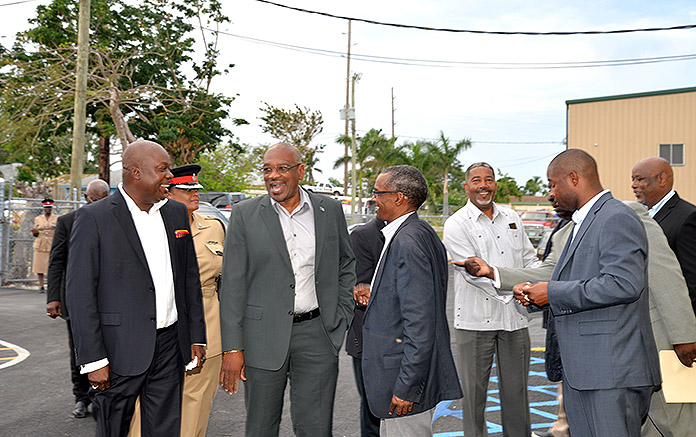 NASSAU, The Bahamas — Prime Minister, Dr. the Hon. Hubert Minnis on Saturday applauded the principals, management and staff of Bahamas Striping Group of Companies for being a beacon for other potential young Bahamian entrepreneurs.
"In all senses of the word BSGC, its Principals and staff make for an outstanding Bahamian enterprise," Dr. Minnis added.
Addressing the 7th Anniversary Celebrations of the Bahamas Striping Group of Companies, Prime Minister Minnis said he "particularly chose" to call the Bahamian company an enterprise as enterprise refers to taking initiative, showing imagination, creativity and resourcefulness and that enterprise is about turning ideas into reality.
"I commend you that your growth strategy includes additional investment ideas for The Bahamas and the Caribbean," Prime Minister Minnis said. "You are an example of extraordinary enterprise and initiative."
Founded in 2010 by a then 23-year-old Atario Mitchell – President and Founder of Bahamas Striping Group of Companies — with a $5,000 grant from the Self-Starter Programme launched during the third Hubert Ingraham Administration, the company has made significant strides over the past seven years later, blossoming into a multi-million dollar operation thanks to the tenacity of its principals, management team and staff.
The company boasts of being "one of the fastest-growing Group of Companies" in The Bahamas. Its other Principals are Dominic Sturrup, Senior Vice-President of Business Development and Dr. Allen Albury, Managing Director.
"What we celebrate this evening is not only the success of this company. We also celebrate hope for the future and we celebrate the talents and possibilities of our young people," Prime Minister Minnis said.
"The mustard seed for this enterprise began in the minds of its Principals, especially its then 23-year-old President and Founder Atario Mitchell. The mustard seeds of this outstanding company were also nurtured by the late Charles Maynard" (State Minister in the Ministry of Youth, Sports and Culture at the time), Prime Minister Minnis said.
BSGC now comprises Bahamas Striping, Airport Maintenance Services, Caribbean Pavement Solutions and Bahamas Theme Photography.
"There are many outstanding qualities of Atario and his management team and BSGC," Prime Minister Minnis said. "They are deeply committed to employing the residents of the communities in which they work, including the Family Islands."
Prime Minister Minnis further commended the company for their commitment to the training and empowerment of young, Bahamian men and women, which he said is "a cornerstone" of the company's corporate culture.
"Allow me to recall what Atario said in developing the headquarters of BSGC. He noted at the time: 'This new head office and manufacturing plant will consist of a state-of-the-art classroom where our staff will be taught and trained in all aspects of road striping.'
"Atario also said: 'My vision for our Head Office in Nassau is to bring in young men that seek opportunity from the Family Islands to train them in road striping, maintenance and manufacturing and have them return to their island to make their roads safer and properly maintain them.'
"Indeed, you have again demonstrated your commitment to social responsibility," Prime Minister Minnis added.