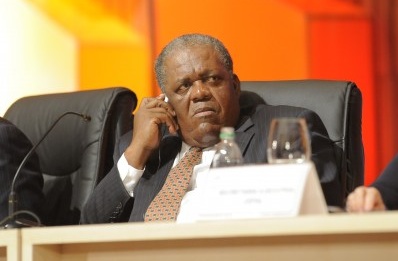 <<< Prime Minister Rt. Hon. Hubert Ingraham.
Nassau, Bahamas — Prime Minister Hubert Ingraham has ordered another stop, review and cancel (not a direct quote) when it comes to the Department of Immigration rounding up or repatriating illegal Haitians.  As a result of the apocalyptic 7.0 earthquake that flattened Port-au-Prince earlier this week, Ingraham says that the 115 Haitians in the detention centre will not be repatriated to Haiti and given temporary residence status in the Bahamas.
Meanwhile, our sources told us that all of the Bahamian representatives are accounted for and some Bahamians have already been brought back to the capital. Director of Civil Aviation Patrick Rolle suffered minor injuries in the quake and all the Haitian employees at the embassy except for a driver and security guard were accounted for. Unlike other Caribbean leaders who will be travelling to Haiti for a one day visit, Ingraham gave no indication that he'll be heading south to view the chaos.
Said Ingraham of a possible trip: "I considered it today  actually. I gave long and hard consideration to it. I couldn't figure out what I could possibly do in Haiti other than get in the way of people. There is no means to move around. It is difficult to get a flight in and to land. It is difficult to find accommodation, etc. What we could do for Haiti, can be done from The Bahamas."
Ingraham also didn't hit a high note with the countless organizations sending relief efforts to  Haiti by saying:  "It is not appropriate for us to be collecting goods to send to Haiti because there is no means by which we can get there. The port is in terrible shape. The airport is difficult to navigate. The ground transportation is terrible. The extent to which we in the region can provide assistance in terms of medical support, doctors, nurses, public health, pay for medicine, food, water… Whatever it is, we are clearly prepared to do so."
If the goods can't get there, we wonder how the medical team will be able to get there. Hmmm?
Meanwhile, many Haitian-Bahamians are still in a frantic search to find out if their family members are in that count of 100,000 believed to be dead. Sadly, that number will rise as many buildings, malls, hospitals and schools have yet to be cleared through due to lack of machinery. The true body count will never be known as there are even reports that fights are breaking out in neighbourhoods because trucks and trailers piled high with rotting bodies have no place to dump their morbid cargo. With the dead still rotting on the streets and in the rubble, the living and injured are now under serious threat of catching disease and infection.
Do you know of any organizations that are helping Haiti? Bahamas Press would like for you to post in your comments.