PM and Opposition Leader Tours Areas Devastated by a Tornado in Grand Bahama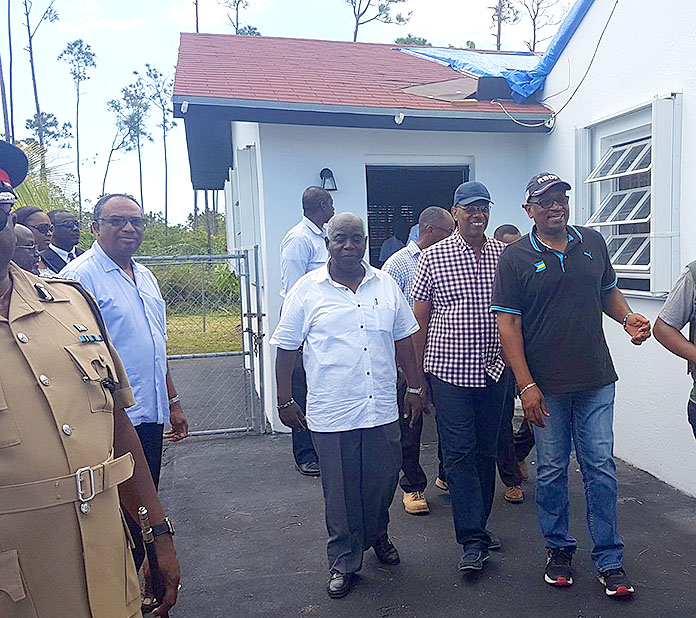 FREEPORT, Grand Bahama – Members of the Government, the Opposition, and NEMA are working together as a team to improve the quality of life for Bahamians, said Prime Minister of The Bahamas, Dr. the Hon. Hubert Minnis during a statement to the press following a tour of the areas destroyed by a tornado on Sunday.
Prime Minister Minnis, along with members of his Cabinet, NEMA, and other senior government officials, on Thursday, September 14, toured Bimini and then Freeport to view damage done caused by Hurricane Irma, including the impacts of tornadoes.
Accompanying the Prime Minister and his team was Leader of the Official Opposition, the Hon. Philip 'Brave' Davis, whose presence Prime Minister Minnis said was important as he too would have seen the problems.
While the codes in place are good, enforcement is very important the Prime Minister stressed. While visiting the homes destroyed by the tornado, they noticed the hurricane straps were not properly placed and the trusses were not consistent.
In Bimini, he said, there was some damage to docks resulting in floating foam in the waters. These matters, he continued, must be investigated to see what may have contributed to this happening so that it does not recur.
He said, "What that points out to me is that we possibly have excellent codes but our enforcement is not in place. And we must improve on our inspection, and that is very serious."
"All of us would work together, NEMA, the Opposition, ourselves and we have one job, one purpose, and that is to improve the lives of Bahamians…. It's a learning experience, and whomever is in power would have the responsibility to ensure that the enforcements are there."
The Prime Minister reiterated that working as a team, great things could be accomplished. "Who would have thought that as a team The Bahamas, as small as we are, would succeed in evacuating individuals from throughout the Bahamas by airlift. It's never been done before, and we were the first to go down in history to be successful."
Although there were some errors and some things could have been done better, in future, he said, in working together "we will most certainly have a more powerful, strong, beautiful Bahamas."
After arriving in Grand Bahama shortly after 12:30 p.m., the Prime Minister, Cabinet Ministers, Members of Parliament and other senior government officials first went to Imperial Park where a number of homes were hit by a tornado on Sunday.
The residents had the opportunity to speak with the Prime Minister and state their needs and concerns.
A luncheon was held at Pelican Bay Hotel; and following his brief statement to the press, the Prime Minister and his delegation departed for their next destination at about 3:00 p.m.