Who is more popular at the Hospital? Sands or Minnis?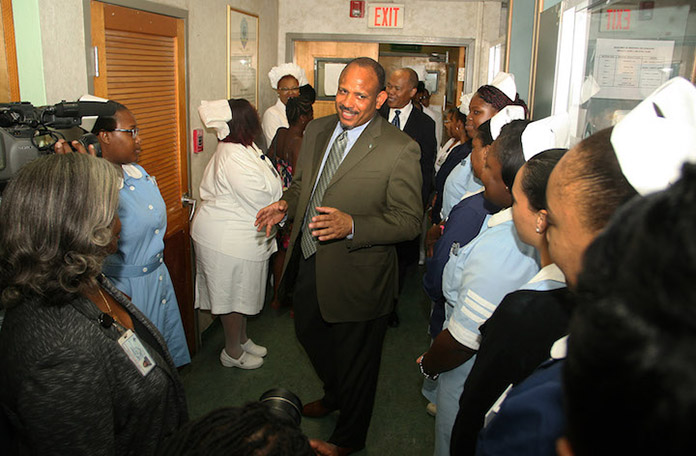 Nassau, Bahamas – Well, at least one other doctor down in the Cabinet is already showing Prime Minister Minnis that not only him can walk in the hospital -so can he.
Newly elected MP for Elizabeth, Duane Sands, who is also the Minister for Health, decided that he, too, could make an official visit inside the Princess Margaret Hospital and tour its facilities.
Mind you, both doctors have been working in PMH all their careers and both have watched how medicine was in short supply for years.
But, while they passed through the halls of the hospital, which needs major upgrades and a serious transformation into a real public facility, what was evident was that both PM and Minister appeared to be on some public relations stunt!
Minnis says he was delivering on a promise to the caregivers to return to them as PM and, well, Sands – we are still trying to figure out why he saw it necessary to follow in the footsteps of Minnis.
What is clear to us is this: The emergency section is still full. People are still standing in the halls awaiting medical attention. The pharmacy is still in dire need of medication and supplies, and both doctors had nothing to say on any of these pressing needs.
And all this continues while the two hospital rodents, Bella and Pepe, are playing hop scotch and jump rope in the cafeteria.
There goes my NHI!
We report yinner decide!