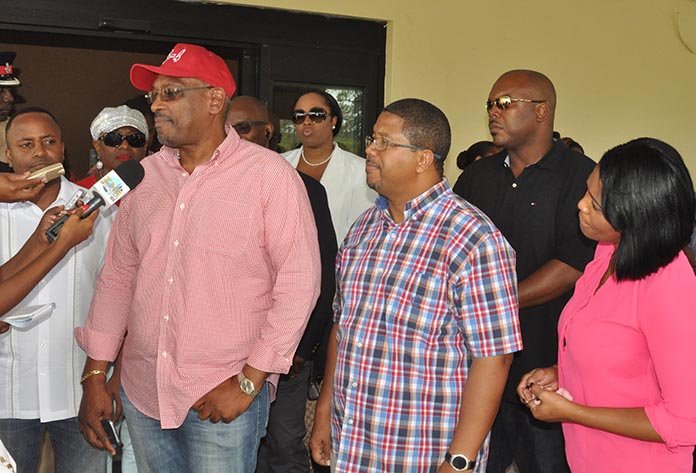 FREEPORT, Grand Bahama – Newly-elected Prime Minister of The Bahamas, Dr. the Hon. Hubert A. Minnis, on Saturday pledged to turn the economy of Grand Bahama around, shortly after his first official arrival to the island.
Immediately following the arrival of Prime Minister Minnis, Mrs. Patricia Minnis, and other members of the delegation — seven-year-old Sophia Sawyer, granddaughter of one of the Free National Movement's founding members Maurice Moore, presented Mrs. Minnis with a basket of flowers welcoming her to the island.
"Grand Bahama is the birthplace of the FNM (Free National Movement) and our foundation, and Grand Bahama had promised they were going to give us five, and they delivered. So I have to come back and show Grand Bahama my appreciation, and then we will go through the entire Bahamas, island by island showing our appreciation.
"Grand Bahama has been suffering for a very, very long time and the FNM and myself, have made a commitment that we will turn Grand Bahama around. We will see Grand Bahama as it was when even I, as a little boy, used to work here," Prime Minister Minnis said while making a brief statement to the media.
"And, that's what we want to see happen here, and that will happen here."
The nation's leader then explained that while on island, he would visit a few homes that were devastated during Hurricane Matthew in October 2016 and assist in getting them ready for the new hurricane season that has commenced.
Among those meeting Prime Minister Minnis were: Deputy Prime Minister and Minister of Finance, the Hon. K. Peter Turnquest; the Hon. Michael Pintard, Minister of Youth, Sports and Culture; Senator the Hon. Kwasi Thompson, Minister of State for Grand Bahama in the Office of the Prime Minister; the Hon. Pakesia Parker-Edgecombe, Parliamentary Secretary for Communication and Information in the Office of the Prime Minister; the Hon. Iram Lewis, Parliamentary Secretary in the Ministry of Works; and the Hon. Fredrick McAlpine, Member of Parliament for Pineridge Constituency. Also present were: President of the Senate, Mrs. Katherine Forbes-Smith; Melvin Seymour, Permanent Secretary in the OPM; Harcourt Brown, Senior Under Secretary in the OPM; Deputy Commissioner of Police, Emrick Seymour; other senior officers and Island Administrators.