PM promises to give report on Grand Lucayan hotel sale at next sitting of the House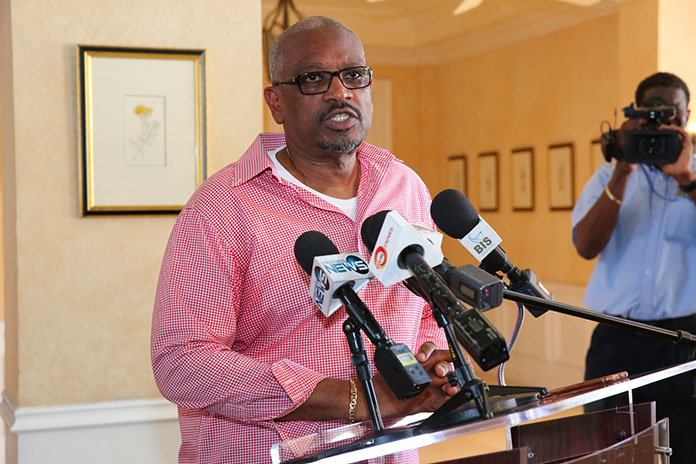 FREEPORT, Grand Bahama – When the House of Assembly resumes in September after its summer break, Prime Minister, Dr. the Hon. Hubert Minnis will outline details pertaining to the sale of the Grand Lucayan resort.
He made the announcement during a press conference following a tour of the sprawling property on Wednesday, August 22, 2018 during which he also announced that the government signed a $65 million sales agreement with Hutchison Whampoa and that a $10 million deposit was made.
The Prime Minister further noted that the government will pay the balance of $55milion in installments and that he intends to give a report regarding the matter, when the House of Assembly resumes in September.
The Prime Minister invited members of his Cabinet, other officials and members of the media on a fact-finding mission to view the closed Grand Lucayan, Memories hotel, Breaker's Cay and, Lighthouse Pointe, which was still opened to guests.
The purpose was to get a first-hand view of the state of the property, which has been closed since the passage of Hurricane Matthew in 2016, and to speak with vendors and taxi drivers at the nearby Port Lucaya as the closure of the hotel have impacted their sales.
He said: "We return to Parliament on the 16th September at which time I will give to the nation an exact report as to how we arrive at this conclusion, what exactly we are purchasing and how we intend to move forward; all details will come out during my parliamentary debate."
He also explained: "It is not our intention to run a hotel. The Government cannot run a hotel. But it our intention to save the jobs of the Grand Bahamians that work at this hotel."
The closure of the hotel has impacted the livelihood of approximately 400 people and by extension the Lucayan strip.
"When you are talking about the lives of Bahamians and the economy of an entire nation, I don't know if you put a cost on that…. You are talking about the demise of Grand Bahama."
The Prime Minister and his delegation also toured the Royal Oasis hotel, which has been closed for about 14 years after being damaged by hurricane. According to the Prime Minister, his government does not want the Grand Lucayan to fall to such status.