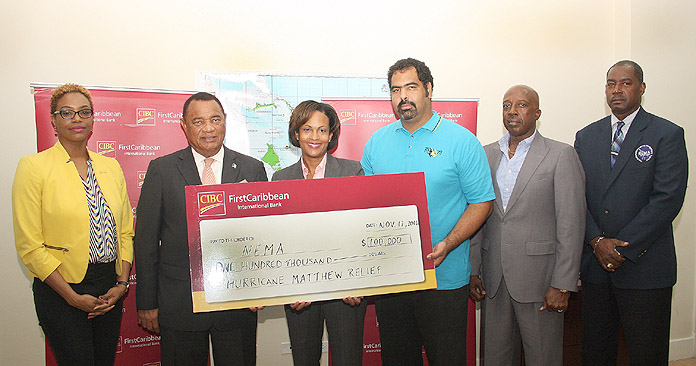 NASSAU, The Bahamas – Prime Minister and Minister of Finance the Rt. Hon. Perry Christie thanked CIBC FirstCaribbean for continuing to assist Bahamians in need, especially after the devastating hurricanes Joaquin last year and Matthew in October.
He made the statement on Thursday, November 17, 2016 during a presentation ceremony by the bank of $100,000 towards the Hurricane Matthew recovery and restoration efforts. The presentation was made at NEMA on Gladstone Road.
Also present were the Hon. Shane Gibson, Minister responsible for Recovery and Restoration; Captain Stephen Russell, Director of NEMA; and Gowon Bowe of the disaster relief fund committee, responsible for the accounting and fund raising.
CIBC FirstCaribbean Managing Director, Marie Rodland-Allen said, "As good corporate citizens we feel we have an obligation to assist when needed, the communities where we live and work. Our hope with this donation today is that it will assist those who need it most in their personal struggles to rebuild their lives. Corporate giving and staff volunteerism are the pillars of the CIBC FirstCaribbean and CIBC community relations platforms."
Just last year, after Hurricane Joaquin, the bank donated 25 refrigerators and 25 stoves for delivery to residents in the Central and Southeast Bahamas whose homes were destroyed by the category 4 storm and were being rebuilt.