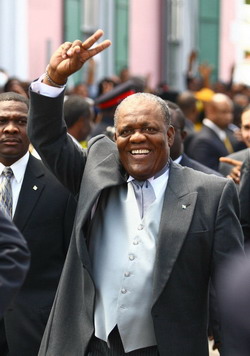 <<< Hubert Ingraham, Prime Minister of the Commonwealth of the Bahamas to have big announcement to legalize gambling in the speech from the throne next month.
Nassau, Bahamas — Hubert Ingraham is determined to leave a lasting legacy when he demits office and in his last legislative agenda as the question of legalizing gambling in the Bahamas will be put to the Parliament.
Bahamas Press is at this hour reading copies of the speech from the throne set to be delivered at the opening of Parliament next month. We accept it will be a day of pomp and pageantry in Rawson Square. We know it will appear as if the PLP is having a mass rally in the city square as joining PLPs parliamentarians for the first time will be BP's endorsed candidate Leo Ryan Pinder – the David who cut papa 'bahind'.
What PLPs can expect though is a stirring message laced with surprises read by the new Governor General of the Bahamas. Bahamas Press was told by its informants in the OPM not to be surprise when we see who will read the lines, "My Government will…".
"It should be no surprise to anyone as to who Hubert chooses as his next GG. That individual will be a player who PLPs will be satisfied with and yes, because of her appointment to the 'Bahamian Pink House' it is possible she will draw greater support to the FNM," our informant said.
Bahamas Press has also learned composed in the speech from the thrown, Prime Minister Ingraham will confirm his intent to legalize gambling in the Bahamas.  The announcement we know will spark a campaign by the religious right–wings in the country who oppose to the idea. However, the proposal we understand will again collect greater support to the PM and his FNM machine.
Bahamas Press – though not practicing gamblers – praises the PM for his BRAVE, BOLD and FEARLESS stand to put the question in the Parliament in this legislative term. We believe it will mature by a lasting legacy to the leader of the country and will certainly land another huge feather in the hat of Hubert Ingraham. NO ONE CAN DENY THE FACT THAT INGRAHAM HAS THE BALLS TO ADDRESS THE ISSUE FACE ON! This is the very reason why Bahamians are afraid of electing a Pussy Cat as Prime Minister.