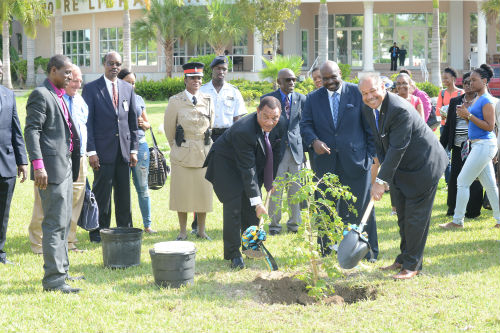 NASSAU, The Bahamas – According to research conducted by the United Nations, deforestation is progressing at a rate of 13 million hectares (or 32 million acres) of forest being destroyed annually. Deforestation, suggests the report, accounts for 12 to 20 percent of the global greenhouse gas emissions that contribute to climate change. With these statistics, Prime Minister, the Right Hon. Perry G. Christie, said that the message of tree and forest preservation "is falling on deaf ears."
Mr. Christie was addressing students while delivering the keynote address at the opening ceremony of the First Annual Forestry Awareness Week Symposium, which was held at the Performing Arts Centre of the College of The Bahamas on March 18. The theme for this year's symposium is, "Forests and Climate Change."
"Perhaps, Gandhi said it best when he opined, "what we are doing to the forests of the world is but a mirror reflection of what we are doing to ourselves and to one another."   
It is imperative that a progressive Bahamian society do better in all things to leave a good legacy for the next generation," said Mr. Christie.
Mr. Christie explained that forests are integral to a small island nation like the Bahamas adapting to and mitigating climate change since they contribute to the balance of oxygen, carbon dioxide and humidity in the air.
Also in attendance was Minister of the Environment and Housing, Hon. Kendred Dorsett, who spoke about the importance of taking care of forests for future generations.
"As climate change affects us more and more, we must do everything possible in order to mitigate negative impacts on our environment," said Mr. Dorsett. "This is the only way that we can ensure that future generations can survive."
The Bahamas is home to substantial natural forest resources, which comprise pine forests, with approximately 80% of forest resources on Crown Lands and the remaining 20% on private lands. The three largest islands: Grand Bahama, Abaco and Andros respectively possess 30, 50 and 130 acres of arable forest and pine trees.
The Forestry Act 2010, which came into effect on 4th January 2010, facilitated the establishment of the Forestry Unit that currently falls under the Ministry of the Environment and Housing. It was enacted to develop the forest resources of the country in order to maximize their potential via the training of competent forestry officers and by the application of sound, scientific forest management principles and concepts that promote sustained yield.
Currently, the Forestry Unit includes Director Christopher Russell, Ms. Ingeria Miller and three staff members. Ms. Danielle Hanek just returned to the department in March of this year and the agency is currently in the process of hiring Mr. Wavell Hanna, Mr. Terrance Rodgers and Ms. Latonya Williams as Forest Supervisors.
Forestry Awareness Week spans the period of March 16th – 21st with 'World Forestry Day' being observed on March 21.