Police are breaking the back of crime – saturation patrols are very effective – Robber shot!
NASSAU, BAH — Two house breaking suspects, a 29-year old male and a 22-year old male of New Providence are in police custody after they were arrested following a high-speed chase on Friday.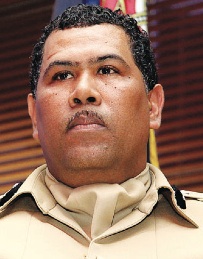 The chase began shortly after 1:00pm when police officers on mobile patrol tried to stop a white Chevy Blazer #190673 occupied by two men in the Delaporte area, who were wanted for questioning reference to a number of housebreaking.
The men failed to yield and led police on a chase throughout the western area. The police in turn set up a roadblock at the intersection of JFK and Gladstone Road to intercept the suspects. The suspect's vehicle approached the police roadblock and failed to stop, putting a number of the officer's lives in danger.
As a result police shot one of the suspects. The chase ended on Carmichael Road where both suspects were subsequently arrested.
Police conducted a search of the suspect's vehicle and uncovered a quantity of electrical household appliances suspected of being stolen.
One of the suspect, a 29-year old male was taken to hospital by ambulance where he is detained under heavy police guard in serious but stable condition.
Active police investigations are continuing.