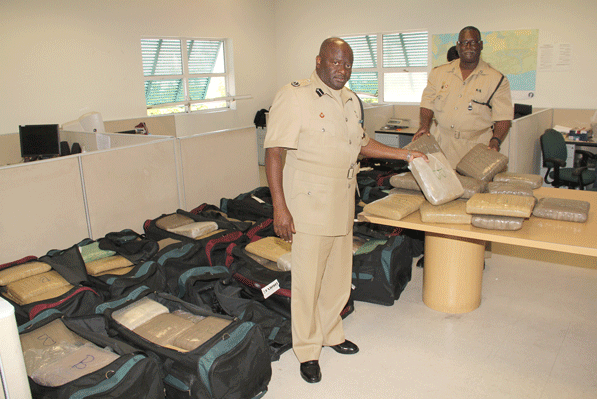 Freeport, Grand Bahama – A team of officers from the Drug Enforcement Unit here in Grand Bahama made a huge drug bust of marijuana weighing 2,283lbs with an estimated street value of $2.3million.
It was early this morning, Wednesday 9th October, 2013 at approximately 12:50am when the team were en route an assignment and while on Warren Lavarity Highway, they observed van travelling east on the mentioned highway that appeared to be heavy laden and the occupants acting in a suspicious manner. As a result the officers pursued the van and signaled for the driver to stop which he refused. A chase then ensued that resulted in the van being stopped on the Fishing Hole road in the vicinity of Fishermen's Stands.
The van was occupied by four black males between the ages of 23-39 of Freeport. A search was conducted that resulted in the discovery of (21) twenty-one duffle bags, each containing multiple packages of suspected Marijuana. The men were arrested and taken into police custody with the drugs.
Investigations are continuing into this matter.