Not e

ven the law enforcers are safe in the bloody city of Nassau – Police officer in operating room this morning
following shooting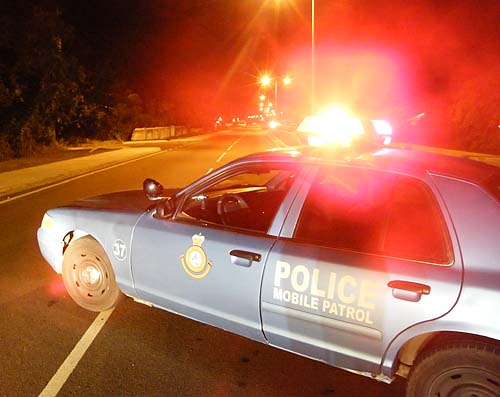 Nassau, Bahamas –– Incident appears to be another domestic dispute gone bad!!!
Nassau, Bahamas — Breaking news happening in the over the hill community of New Providence tonight records the shooting of an off duty police officer.
In this early report we can also tell you the officer is a witness in a matter before the courts.
We know the incident occurred just minutes ago on Woods Alley off Wulff Road.
The officer is NOT DEAD!!!. He is in stable condition and will be going into the operating theatre shortly. We can report the officer is talking with police at this time…
Two more males arrested for firearms –
Two 22-year old males of New Providence are in police custody after they were arrested for firearm possession on Saturday 6th October 2012.
Police reports indicate that around 3:00 am officers from the Selective Enforcer Team were on routine patrol on Mckinney Drive off Fire Trail Road, when they heard gunshots being discharged from a white Explorer vehicle. The officers pursued the vehicle occupied by the two males and brought it to a stop. The officers then conducted a search of the vehicle and uncovered a handgun. The two male suspects were subsequently arrested and taken into custody
Another man shot in an over night incident
Police are requesting the public's help in solving a shooting that has left a 19-year old man detained in hospital on Friday 5th October 2012.
According to police reports, shortly after 8:00pm the victim was standing in front of his residence located on Hawthorne Road off Farrington Road when two men in a jeep pulled up, shot him in the left shoulder and sped off.
The victim was taken to hospital via EMS where he is detained in stable condition.
DEU OFFICERS ARREST WANTED MAN FOR
POSSESSION OF DANGEROUS DRUGS
A 39-year-old man of Fox Hill is in police custody after he was arrested by DEU Officers for possession of dangerous drugs on Friday. DEU Officers also want to quiz this suspect regarding an unrelated drug matter.
Investigators tell us around 2:15 pm DEU Officers were on routine patrol in the Fox Hill area when they observed the wanted suspect acting suspiciously.
As they approached the suspect, he fled, attempting to evade the officers on foot.
However, after a short foot-chase, the suspect was arrested by the officers after a quantity of suspected marijuana was found in his possession. FOUR YEARS WITHOUT BAIL!
DRUG ENFORCEMENT UNIT (DEU) OFFICERS MAKE DRUG ARRESTS IN HARBOUR ISLAND
Two male residents of Harbor Island are in police custody for possession of dangerous drugs after they were arrested by DEU Officers assisted by officers from the Eleuthera
District on Thursday 4th October 2012.
In the first incident, around 12:25 am, DEU Officers executed a search warrant on the residence of a 34-year old resident of Harbour Island and uncovered a quantity of suspected marijuana.
In the second incident, around 5:40 pm, DEU Officers executed a search warrant on the residence of a 45-year old resident of Harbour Island and uncovered a quantity of suspected marijuana. Police also seized just over three thousand ($3,000:00) in cash, believed to be the proceeds of the sale of dangerous drugs.
TRAFFIC DIVISION OFFICERS CONDUCTS "OPERATION OCTOBER STORM"
In keeping with the Royal Bahamas Police Force 2012 Policing Plan priority # 4 which speaks to "Enforcing the Rules of the Road," a team of officers from the Traffic
ivision led by Insp. Williams conducted an aggressive campaign against persons breaking the Traffic Laws on the streets of New Providence between 10:00 am and 12:30 pm on Thursday.
This operation code named "Operation October Storm" focused on persons driving Unlicensed and Uninsured vehicles resulted in the following:
Fifty-eight (58) persons were issued citations for driving an Unlicensed Vehicle.
Thirty – four (34) individuals were issued Citations for the offense of Driving while not having their seat belts fastened.
Twenty – three (23) persons were issued citations for Driving in the wrong Direction on a one-way Street.
Eleven (11) persons were issued citations for driving a motor vehicle with windows obscuring the interior.
Seven (7) persons were cited for driving while not covered against third party risk insurance
Seven (7) persons were issued citations for causing obstructions
Three (3) persons was issued citations for failing to keep motor vehicle to the left side of the street
One (1) person was issued a citation for failing to stop a motor vehicle at a Traffic Light
One (1) person was issued a citation for driving buses off their regular route
Police reminds members of the public to adhere to the rules governing the usage of our roadways as the officers of the Traffic Division, and by extension the Royal Bahamas Police Force, remain steadfast in their resolve to maintain law and order while providing a Safer Bahamas for us to "Live, Visit, Work and Play."