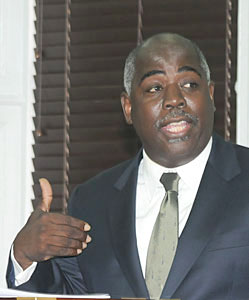 By Tribune242.com
THE government's crime bill package will only be effective if used alongside other solutions, according to Tribune readers in the tribune242 poll.
Following the PLP's stance that the package is "too little, too late", online voters were asked if they thought the bills would reduce the crime rate.
The majority of those casting their vote (172), said other solutions were needed for the package to work, while 70 believed the bills will help to reduce crime.
Sixty voters said the bills would not be effective in the crime fight.
Commenting on the poll, 'Rosemary' agreed with the majority: "The bills recently passed to bring some semblance to our crime riddled country can only be effective if all parties concerned work together for the good of the country.
"Parents and guardians ought to be held responsible for their children's actions and whereabouts."
'Abaco Dinghy' took a firmer tone: "How about having the police (senior staff and commissioner), the magistrates, judges, prosecutors, AG, and of course the politicians, all of them – how about holding them all accountable for the state of the country?
"If you can't get the job done get out. Very simple."
And there was a call for a focus on education from 'Stanley Jackson Sr': "The core problem generating crime is the PLP and FNM's failure at education! Stop posturing and making stupid speeches and begin developing a plan for vocational training for 15- to 50-year-olds and reverse the heavy tax burdens on business to get the economy headed in the right direction."
Check out tribune242.com now to cast your vote in the latest poll.