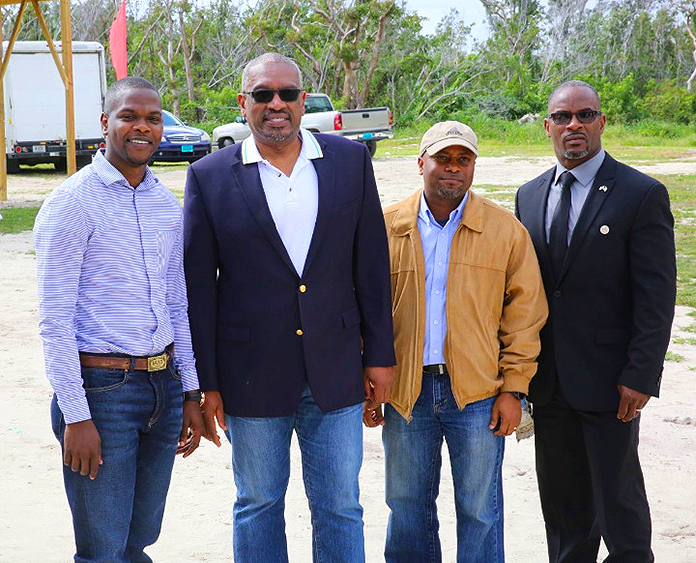 Prime Minister Minnis noted that one of the unique aspects of the Pirate's Cove Zipline & Water Park was the fact that it was carried out by Bahamians. This, he said, proves that Bahamians are more than capable of owning their economy.
"My government seeks to encourage more of these Bahamian business ventures, particularly in Grand Bahama," added the Prime Minister. "It's important to note that this is an achievement for the entire island of Grand Bahama. It strongly suggests that investment confidence is improving.
"I have been advised that the investment into this project totals some $1.4 million into the economy of Grand Bahama. I am pleased that Pirate's Cove presently employs 30 persons directly, and they are all Bahamians. They also have an additional 30 persons who are indirectly employed by this entity."
The Prime Minister noted that the results of the recent labor force survey by the Department of Statistics for Grand Bahama indicates some progress. He said that in Grand Bahama, there was a slight decrease in the unemployment rate from 12.4 percent to 12.1 percent.
"There are still too many unemployed, but the rate is trending in the right direction," said Prime Minister Minnis.
"It should be noted that there was a significant increase in employed persons in Grand Bahama. The number of persons employed in May 2017 in Grand Bahama was 26,160 and that number increased to 27,240 in November 2017.
"We still need more jobs."
Prime Minister Minnis reiterated his commitment to the Second City, noting that Grand Bahama has been a major focus of his government, and he vowed that they will continue to work towards its complete restoration.
The Prime Minister said he would continue to have a personal interest in Grand Bahama to ensure that the economy of the island is revived. He said he also has the same passion for the other islands, as well as the inner city of New Providence.
Referring to his most recent National Address, Prime Minister Minnis affirmed his announcement of all first time businesses being exempt from business license fees. He also affirmed that all businesses with a gross of less than 100,000 dollars are exempt from business license fees.
"I have been travelling to Grand Bahama for a very long time and I know that the Port loves Grand Bahamians just as much," said Minister Minnis, jokingly taking a jab at GBPA president, Ian Rolle, who was also at Saturday's opening.
"Therefore I am certain that the Port will match the Government. Just as I said to the Minister of Finance recently, I will say to the Port… 'don't make me out to be a liar.'"
The Prime Minister said that the Zipline Park was something great for Grand Bahama and he wished it total success. He reminded his audience of the Government's ongoing transactions to get the Grand Lucayan hotel sold and re-opened. He also spoke of the Government's negotiation with Bahamas Paradise for the return of the Grand Celebration and the introduction of a new vessel, which will bring additional stopover visitors and new opportunities for Grand Bahama in April.
"We have also negotiated an airlift agreement with Sunwing and now have the return of Vacation Express," added Prime Minister Minnis. "It has been announced that a total of eight non-stop flights departing from various U.S. cities will begin their flight schedules to Grand Bahama this year.