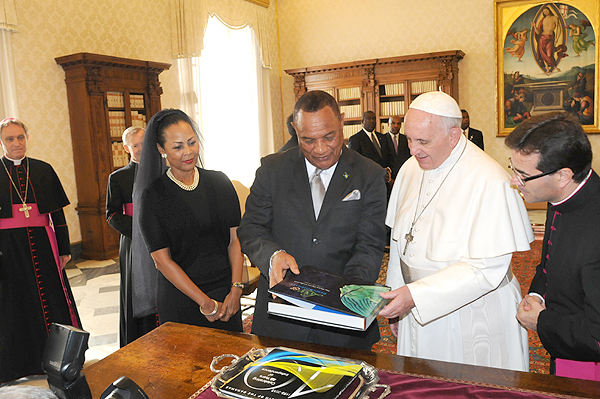 Vatican City, ROME – Prime Minister Perry Christie today made history in Vatican City by becoming the first Bahamian Prime Minister to have an audience with the Pope in the Vatican. The audience took place at ten thirty this morning Monday 18th November in the Papal offices appurtenant to St. Peter's Basilica.
The Prime Minister was joined in the delegation by Mrs. Christie, Ministers Fred Mitchell, Ryan Pinder and Senior Policy Advisor Sir Baltron Bethel.  Later the entire Bahamian delegation joined the Pope and the Prime Minister  and took individual photos with the Pontiff.
The Pope and the Prime Minister spoke privately for twenty minutes before being joined by the others.  The Prime Minister paid tribute to the Roman Catholic church in The Bahamas and  thanked the Pontiff for the thousands of Catholics who contributed to the development our country.  He spoke of the great pride that the Bahamas has in its native son Archbishop Patrick Pinder. The Prime Minister spoke of his special son Adam and the work that the government is doing in serving the poor in the Urban Renewal programme and children with special needs. He spoke also of the work of the church in education generally and in migrant issues. The Prime Minister recommitted himself to helping the poor and the under privileged.
Following the Papal audience, the two exchanged gifts and the Pope greeted each person in the Prime Minister's party with the words: "You must pray for me. I will pray for you." The Prime Minister presented the Pope with a book showing a collection of Bahamian art works, a collection by Dawn Davis and a book on the 40th anniversary  of independence by Wendell Jones' Jones Communication.
Later the Prime Minister, the Ministers and the Senior Policy Advisor met with the Secretary of State Archbishop Pietri Parolin and exchanged views on world affairs. This was the first meeting of the Secretary of State in his new post. The Prime Minister agreed that he would advance a name shortly of  a Bahamian to serve as non-resident Ambassador to the Vatican in an effort to deepen relations on a number of issues including education, and migrant issues.