Prime Minister Christie welcomes regional leaders to the Bahamas!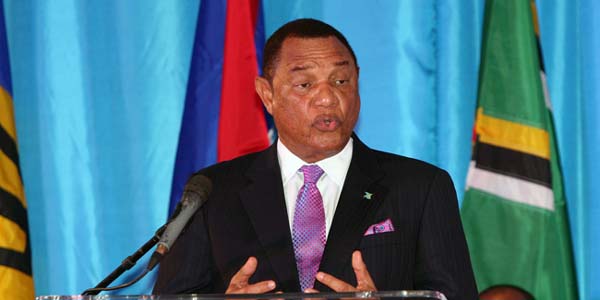 Nassau, Bahamas – The Caribbean has 'extensive' intellectual, cultural and sporting heritage that should be further developed Prime Minister of the Commonwealth of The Bahamas the Right Hon. Perry G. Christie, who is Chairman of CARICOM, observed at the Opening Ceremonies of the 26th Inter-Sessional Meeting of the Conference of Heads of Government of the Caribbean Community (CARICOM). Prime Minister Christie said Caribbean youth development and empowerment should be the focus of discussions to ensure tomorrow's leaders are prepared.
CARICOM's meetings take place February 26-27, 2015 at Melia Nassau Beach Resort.
Mr. Christie said: "The mandate of CARICOM leaders to address the common goal of a sustained developmental path for the common man and woman precipitated my proposal that we discuss the topic of 'Leveraging CARICOM's Human, Cultural and Natural Resources for the Economic Development of the Community.'"
He noted the Strategic Plan for the Community that was approved at the Thirty-Fifth Regular Meeting in Antigua and Barbuda had identified the creative and service industries as key economies for the Region.
The evidence is cemented, he said, in the world-wide recognition of Caribbean personalities such as Bob Marley, the Mighty Sparrow, Lenny Kravitz, Edwidge Danticat, The Golden Girls 4 x 100 Relay Team, Rihanna, Usain Bolt, Ato Boldon and others who have received international acclaim for their talents and contributions.
While it is important to applaud the triumphs of those who have already made their mark on the world stage, he continued, it is still incumbent on regional leaders to assist the rest of the Caribbean societies to realize their dreams.
The Prime Minister said to this end, Caribbean leaders had already started to address that objective: "We began this process in 2010 in Suriname with a Summit on Youth Development," said Mr. Christie. "The time is optimal for us to be active in implementing the ideas drawn from the youth themselves and contained in the Declaration of Paramaribo on the future of youth in the Caribbean." In that Declaration leaders agreed to support actions aimed at empowering and developing youth in the region.
"We have done the research. We have the views of the youth. Let us take the necessary action to deliver on the provision of Paramaribo and ensure that tomorrow's leaders are academically, socially and mentally ready for building on the policies of yesteryear," he said.
He further stated that females should not be left behind in the process and that every effort should be made to empower females.
"In tandem with that we must also ensure that female empowerment is a priority not only as a moral imperative but also as a social necessity," said Mr. Christie. "In this latter regard, it is a statistical fact that over fifty percent of our families are run by single mothers. Recognizing, as we do, that the family is the most basic, most fundamental, building block of society, the case for female empowerment, inclusive of full equality for women in relation to their male counterparts, is therefore too compelling to countenance any serious dissension." (BIS Photo/Letisha Henderson)