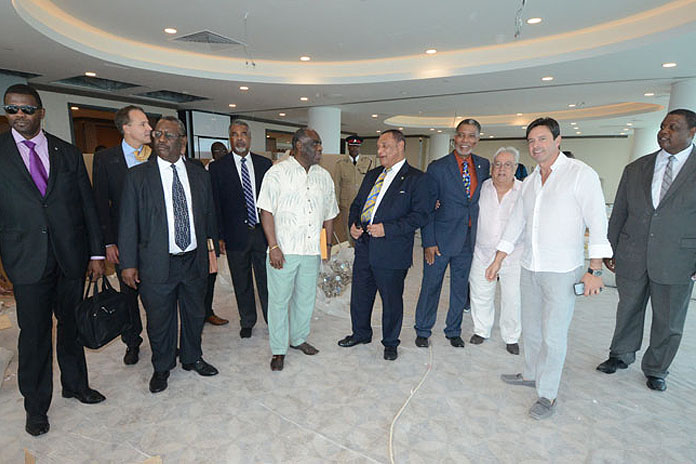 Bimini, Bahamas – Prime Minister, the Rt. Hon. Perry Christie recently toured the Hilton at Resorts World Bimini, saying he is very impressed with the progress he has seen so far. The Prime Minister and a contingent of government officials and media personnel toured the soon-to-be-completed lobby and second floor of the luxury marina hotel, which is scheduled to be fully opened this spring with the completion of Phase II of the project.
Prime Minister Christie said he anticipated that the hotel was going to be high class for high net worth individuals, however regardless of who stays there they would be so impressed with the accommodations that they would be sure to come back, which is the whole idea of resorts. "It seems to me that even though we are talking about a 300 room resort, the attention that was paid to it suggests that this is a massive resort complex with a great return on it," he said.
"So my sense is that they are going to have a high rate of occupancy because of the comfort that people will have and their willingness to return and tell other people about it. I expect the finished product to be absolutely magnificent."
The Prime Minister said he is looking forward to declaring the official opening because it will mean that at least another 100 people will be employed.
"That's the most important thing for me, that this investment has created a lot of jobs and has given the economy of Bimini an incredible boost," he said. "(The investment is) an enduring one that will cause the people who live and reside on this island to be able to benefit substantially from this resort."
Resorts World Bimini currently has a staff complement of 563 employees.