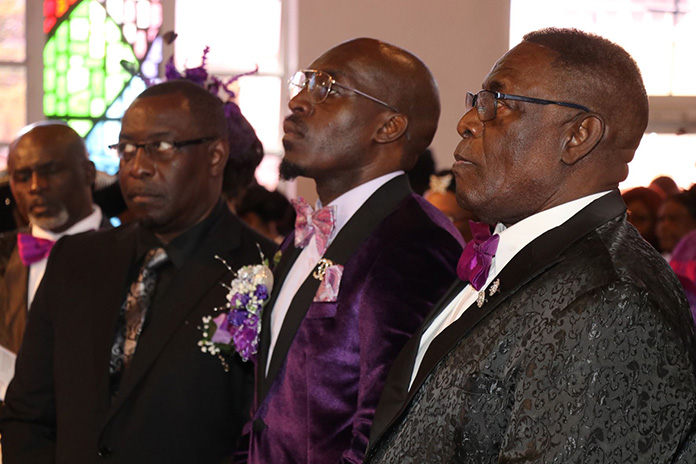 NASSAU, The Bahamas — As he gave his tribute to the late Minister Betty Thompson, the wife of Rev. Dr. William Thompson, at her funeral, on March 4, 2023, Prime Minister and Minister of Finance the Hon. Philip Davis pointed out that, even as they mourned the passing "of a mighty woman of God"; they must rejoice because, "indeed, Heaven has gained a resplendent flower in full bloom".
"Self-confident, elegant, graceful, virtuous, wise, visionary, humble, courageous, victorious, and dedicated are just a few adjectives that come immediately to my mind when I reflect on Minister Betty," he said, at the service held at Faith United Missionary Baptist Church.
Among those present included former Governor General the Most Hon. Dame Marguerite Pindling, former Prime Ministers the Rt. Hon. Perry Christie and the Most Hon. Hubert Minnis, cabinet ministers, senior government officials, uniformed branch representatives, members of the clergy, family members and well wishers.
Prime Minster Davis said that wherever she went, her smile simply "lifted the heart and transmitted joy throughout the room. Minister Betty used those virtues to build the Kingdom of God as a role model for those she now leaves behind," he said. "She was a mentor in the spiritual, professional and leadership realms."
"The Bahamas is richer because she was here."
Prime Minister Davis noted that scores of Bahamians lamented the fact that the ministries at the church and the wider convention flourished and grew from strength to strength because of "Betty's invaluable contributions, her faith, her prayer and supplication, not to mention moral suasion and influence."
"As a pastor's wife she was a help mate par excellence in the work of this church, the convention, in the broader church community and in the home," he said.
"As a result, the work of this convention in the areas of community outreach, evangelism, missions, Christian education, the women's ministry and church leadership will continue to transform our communities by strengthening our national social fabric and deepening our spiritual devotion."
Prime Minister Davis pointed out that, while paying tribute, it was a good opportunity to encourage all pastors' wives, pastors' widows, those in the women's ministry and virtuous women generally involved in kingdom ministry building to continue to cultivate national goodwill and unity within the church community by embracing an ecumenical spirit of cooperation within the body of Christ. This culture, he said, was "laudable, noble and worthy of praise".
"Minister Betty Thompson was our Abigail, Sarah and Deborah all neatly wrapped into one angel of God. She not only set an awfully high and the gold standard for high fashion, but set very high standards for service to God, to family and to our fellowmen," he said.
Prime Minister said that he understood that her passing seemed to leave "a leadership void for women in kingdom ministry; but know that death cannot change or diminish the Church."
"Embrace this great opportunity for the next generation of women religious leaders to stand boldly and confidently on her shoulders," Prime Minister Davis said. "Continue her legacy – proclaiming the uncompromising and infallible word of God and the testimonies on Jesus Christ which bring salvation to those who believe."
"I am grateful to Minister Betty for her service to this nation in the areas of religion, social development and gender issues," he added.  "I am even more grateful that I had the opportunity to say this to her while she was alive."