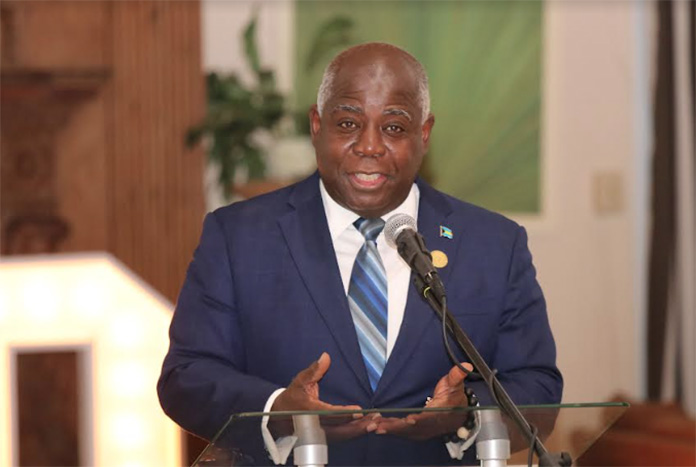 NASSAU, Bahamas — Prime Minister and Minister of Finance the Hon. Philip Davis said the country marks the "extraordinary success of the Niccolo P. Small Meteorology Cadet Programme, a truly one-of-a-kind initiative spearheaded by the Department of Meteorology and the Ministry of Transport and Housing."
"This inaugural group, which includes young people between the ages of 14 to 25, represents a new wave of Bahamian talent. They truly embody the core values of the Programme, demonstrating curiosity, passion, and dedication," the Prime Minister said at the Closing & Recognition Ceremony for the Programme at Margaritaville Resort on Tuesday, August 22, 2023.
He said, "I salute you all. I can't tell you how proud I was to learn that by all accounts, you excelled!"
Prime Minister Davis explained that this is a time of rapid change and a world with opportunities, but it is also a time of real and growing danger.
He said, "As the climate warms and sea levels rise, our safety and our way of life are under threat in The Bahamas. We cannot predict when the next storm will descend upon our shores, or the one after that. But we can choose to be inspired by the importance of the challenge, rather than discouraged by its magnitude."
The Prime Minister said that is why the government is fighting for the country on the world stage – building alliances with other small island states, ensuring that the nation's voice is an important one in advocating for a reduction in global emissions and for fair climate finance so that the government can get the country ready.
He noted that a crucial aspect of readiness is preparing the nation's young people for this new era.
The Niccolo P. Small Meteorology Cadet Programme was developed to encourage young Bahamians to pursue careers in meteorology and related fields – in other words, to serve as a crucial element on the front lines of the country's national response to the threats faced.
Prime Minister Davis said the meteorologists, climate scientists, hydrologists, forecasters, and weather broadcasters of tomorrow will play a critical role in developing strategic responses to climate change and promoting human welfare across the globe.
He told the cadets that one day they may find themselves advising a Prime Minister, or conducting research that leads to life-saving policies. "You may become the voice of steady expertise; someone our country can turn to during natural disasters. You may find yourself advocating for strategic climate action. You may end up being the kind of changemaker that breaks open new possibilities."
The Prime Minister said, "It is my hope that your training has opened your eyes to new possibilities. Whether you are just starting high school, or you are almost done with university, look for opportunities to turn your talents into action. Decide that you won't leave the hard work to others, because using your gifts in pursuit of something bigger than you is the best path to personal fulfilment – and to national excellence for us all."