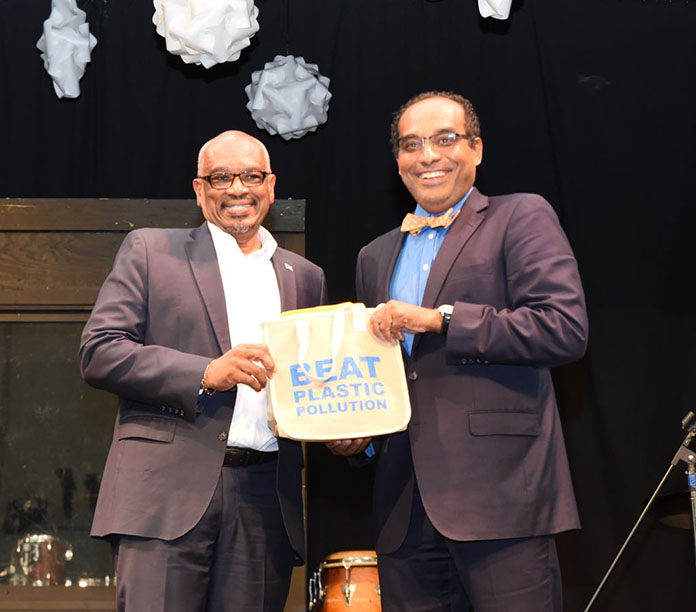 NASSAU, The Bahamas — The Government has embarked upon a programme to ban the use of plastics and Styrofoam which are proving detrimental to the country's eco and marine system.
Towards this end, the first in a series of town hall meetings on Single-use Plastics & Styrofoam Ban was held at the New Providence Community Church on Blake Road on Monday, July 23, 2018.
Among those present were Prime Minister, Dr. the Hon. Hubert A. Minnis; the Minister of Housing and the Environment, the Hon Romauld Ferreira; other Government officials; and the President and members of the Chamber.
Addressing the gathering, the Prime Minister underscored the importance of banning the use of such materials. The aim is to also simultaneously address marine pollution and waste management and to ban single-use plastics, such as shopping bags, food utensils, straws and Styrofoam food containers by 2020.
"Reducing harmful waste streams such as plastics and Styrofoam is one of the first steps we are taking in to implementing a more effective solid waste management strategy that prioritizes waste prevention and minimization, while utilizing waste disposal as a last resort," he said.
The Prime Minister referenced the New Daily website about a video that went viral on the "world's latest garbage emergency" showing 30 tons of plastic debris washing up on a beach in the Dominican Republic.
The New Daily also reported "A huge clean-up operation began on Wednesday with more than 500 local public workers, navy and army support mobilized to collect and remove the massive floating stockpile of plastic bottles, takeaway food containers and Styrofoam."
According to the Prime Minister, these "shocking" events dramatize why there is a global and his Government's push towards reducing plastic pollution in the oceans.
More than 60 countries have already committed to introducing levies and bans to reduce single-use plastic waste, he said, adding that plastic pollution is extremely difficult to remove from the environment.
"These plastics break down into much smaller micro-pieces which are often mistaken for food by birds, turtles, and fish. Tiny particles of plastics have been found to build up in fish brains, altering their behaviour," the Prime Minister said.
As the effects on human beings to eating fish affected by these plastics, are still being studied, he said it is important to engage the public on this critical matter.
Additionally, climate change and plastic pollution are both symptoms of a world that gives priority to overconsumption and convenience. The Prime Minister noted that like other Small Island Developing States, The Bahamas is highly vulnerable to the impact of climate change.
"Coupled with this, we have the prevailing challenge of finding waste management solutions that suit our small size and growing economy," the Prime Minister said. "Due to our geographic location, we are besieged by marine debris from the United States of America, and from the many international marine vessels which pass through our waters. This pollution will have a terrible impact on our tourism and fishing industries."
The Prime Minister said that his Government remains committed to ensuring that significant action is taken to mitigate natural as well as human-made pollution, including pollution resulting from the poor-functioning and poorly managed dump sites throughout our archipelago.
"As the Ministry of the Environment continues to host town hall and consultation meetings with businesses, I want to encourage all Bahamians to do their part in reducing their plastics and Styrofoam use," the Prime Minister said.