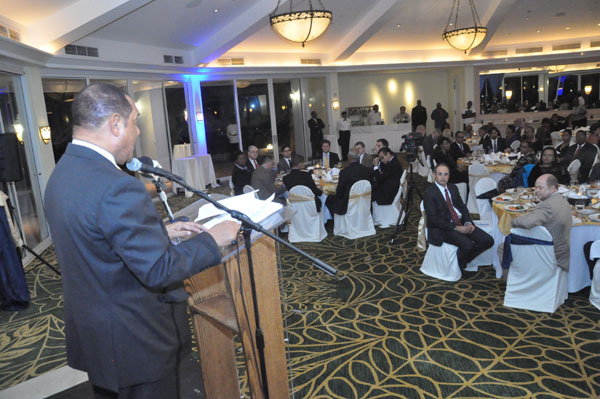 By Robyn Adderley
Bahamas Information Services
FREEPORT, Grand Bahama – The Bahamas must be ready to compete in the ever changing financial market, said Prime Minister, the Rt. Hon. Perry Christie during the CEO Dinner at the opening of the International Business and Finance Summit on Thursday.
The four-day event is being held at Grand Lucayan under the theme, Creating a New Legacy."
Looking at the theme of the Summit, the Prime Minister said it was important to take the lessons which were most important and useful and improve them by adapting to the environment and new challenges.
"Indeed, as simplistic as a beehive in nature is keenly dependant on the environment that surrounds it for its survival and growth, so too we, as policy makers, also realize that we must provide an environment to enable your institutions to thrive. In this endeavour you have the commitment of the Government of The Bahamas to provide the most fertile environment possible.
"Ladies and gentlemen, we, in the Government of The Bahamas appreciate that this is a rapidly evolving and highly dynamic sector. The business is changing and so too must The Bahamas. The world will not wait for The Bahamas to be ready to compete. That is known with certainty."
The Prime Minister continued: "Creating a New Legacy requires that we understand the full scope of our national assets both physical and human and seek to take advantage of economic opportunities which will emerge in the coming years. We must know with more certainty who we are and more importantly who we want to be. It is a forward-looking process. This is why my Government is investing in creating, for the first time in this nation's history, a national development plan. This plan is not intended to be a plan for this Government only, or even just a plan for the nation abstractly, but a plan for our people with input from the broadest cross section of our nation.
"There is no doubt that a key component of that plan will include a vision for The Bahamas in 2040 as it relates to financial services with five-year goals to get us there. While the continued evolution of this industry is a surety — it will be an industry that is filled with opportunity."
He further stated: "Wealth is being created at a faster rate in new corners of the world. The new wealth from emerging economies together with old wealth from traditional America and European jurisdictions are still seeking a safe haven in stable, democratic countries of which The Bahamas is a prime example, where there are also local and international experts and technicians who understand the needs and unique concerns of ultra and high net worth customers. My Government will work even more vigorously to attract such persons to live and work in The Bahamas, to join hands with us as we aspire to develop our beautiful country to its maximum potential for the enjoyment and benefit of our citizens and those of other nationalities who reside, work and visit in this wonderful archipelago.
"We are being constantly reminded that technology means that the world is truly global – unbounded by distance, time or nationality and industry growth will favour those who have embraced advances in this arena.
"While the industry may look nothing as it does today — and indeed within the macro context this certainly is a possibility — for Bahamians it will be a financial services industry that is filled with opportunity. We know this because of the quality and success of our discussions with the President, Premier and major business interests in China in which numerous investment opportunities were advanced. For in addition to gaining agreements relating to strategic air access and collaborative research, we secured an agreement in principle for The Bahamas to operate as a Renminbi trading and settlement hub. We must now exploit the full potential of these arrangements in our financial services, tourism, agri-business, manufacturing, shipping and other commercial components of our economy.
"We will look to convene in short order a working group comprised of the public sector, private sector and regulatory agencies to chart the course for the Renminbi Trading Hub and to ensure that we have the infrastructure and processes in place to make it one of the most successful Renminbi hubs in the world.
"We recognize as well that whether you are Bahamian by birth or residing here temporarily or permanently, you an important part of the fabric of Bahamian society. As productive members of our society, The Bahamas is made better by your presence. As we review the way we approach human resource and skilled manpower needs, now that we recognize the importance and contributions of those who call The Bahamas home and who contribute not only to the development of this sector but to the overall development of The Bahamas. At the same time, the Government is even more resolute about ensuring mobility for its citizens in this sector. We have world-class talent here, and we wish to have them exposed and fully utilized, while pursuing a realistic immigration policy to ensure suitable arrangements to attract wealthy residents and specialist expertise from abroad."
Continuing, the Prime Minister added, "Ladies and gentlemen, as with tourism, the Government of The Bahamas is committed to the financial services sector. We shall do what is necessary to defend the centre by ensuring that we advocate for sensible policy and by ensuring that we navigate the world of change with skill, innovation and determination."
Turning his attention to Grand Bahama, he said, "I would be remiss if I failed to mention that there is an important pioneering businessman, developer and philanthropist missing from this event – the late Sir Jack Hayward, former chairman of the Grand Bahama Port Authority. We shall greatly miss him whose vast contributions helped build Freeport from scratch into the nation's second largest city, and created an infrastructure on which Grand Bahama will be able to expand for decades to come.  I again offer to his family, the corporate family of the Grand Bahama Port Authority and all those who were closest to him our deepest sympathy.
"With the passing of both Sir Jack and Mr. Edward St. George, both iconic, charismatic figures, the Government intends to move resolutely in the coming months in collaboration with the Grand Bahama Port Authority, business and other stakeholders and the Grand Bahama community, to review, re-organize and chart the way forward for Grand Bahama with a vibrant development plan. We shall professionally and appropriately review the expiring concessions under the Hawksbill Creek Agreement and come up with an agreed framework which is best suited to achieve sustained and vibrant economic growth, community development and more relevant governance in accordance with international best practices.
"I am convinced that Grand Bahama lies at the crossroad to a bright and prosperous future, offering great and diversified opportunities for both local and foreign investors, which will be realized through partnership between Government, private sector and community interests."
Other officials present included: Senator the Hon. Z.C. Allyson Maynard Gibson, Q.C., Attorney General and Minister of Legal Affairs; the Hon. Damien Gomez, Minister of State in the Ministry of Legal Affairs; Permanent Secretaries; Senators and Members of Parliament. Officials of the Grand Bahama Port Authority and of a cross section of the business community were also in attendance.