WHAT NEXT!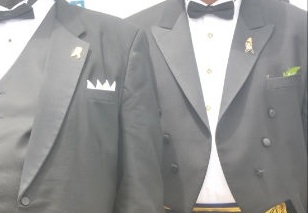 Nassau, Bahamas — Much to the upset of the worthy brothers of Prince Hall Lodge, the former Worthless Master of Royal Eagle Lodge #1, Uriel "Tiefin' Rabbie" Johnson was just informed this weekend that he is getting the highest degree of all in Masonry – 33 degrees.
Prince Hall Lodge is definitely the laughing stock of the Masonic society at this point. Tiefin Rabbie stole $15,000 from Royal Eagle Lodge and begged not to be expelled. He was allowed to remain a member, once he agreed to pay the stolen money back, but was told that he will never hold a title in the organization at any point in the future, but the future came and his luck changed.The idiot former, love sick, "I Fa Tanya" (BP won't even go there this time) Worshipful Master, Juan Bethel, decided to let him out of the Masonic wilderness and into his Cabinet, giving him the opportunity to tief more of the lodges money, sleep with sisters and brag and boast about them. Why did the love sick Master do this? BP can answer that. He did it because he cared about nothing but chasing down his biggety girlfriend and turning over the gavel to Da Tief so he could go sit up in her seaside house and look up in her face when he should have been minding his lodge.
BP will refresh your memory on this Worthless "Tiefing Rabbie" Master. He is known to have ten children with eight different women. He does not finance these 10 children. He had three children born in one year. He is known to have an "itching crotch", if you get our drift. He pulled a gun on a Defense Force officer over a woman he wanted to keep using. He was shot several times for ducking bill collectors a few years ago. He was accosted by all of his women and baby mothers at the hospital while convalescing. Over 15 angry women showed up at the hospital, two of which were pregnant – Da tief had to be protected by his then cabinet secretary, Mai Rahming, who works at the hospital and who had pity on him seeing that he is a womanizer himself. The Worthless Master also had to call for the assistance of two burly Masons who showed up to the hospital high as a kite but was able to pin down a few women and stop the quarreling.
So we put all of dis before yinna. Who in Prince Hall Lodge can explain how this manner of man can receive the highest honor in lodge – 33 degrees? BP can hear the Masonic world heckling and laughing at this right now. The heads of Prince Hall Lodge must be asleep at the wheel. WHAT IN DA HELL IS DIS???!!!!
Prince Hall has a group of decent, worthy brothers who are set to be turned off by this mess and stop attending lodge meetings because they are now questioning the standards of the organization whose symbol is stamped on their very chests.
We report! Yinna Decide!