BTC helping to Birth New Possibilities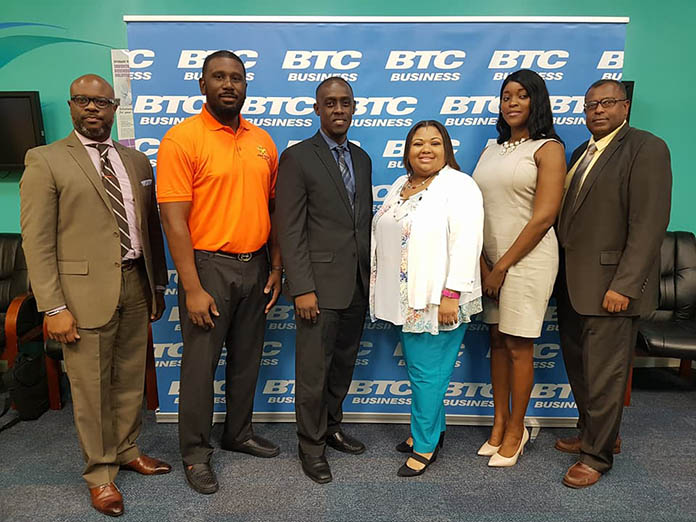 Nassau, The Bahamas. October 12, 2017. The entire month of October is being recognized as Small Business month at BTC. The company is collaborating with the Bahamas Chamber of Commerce and several businesses for the month of activities.
"There are many big businesses in this country that started off as just a dream, just an idea of a new possibility. BTC is aware that small businesses comprise nearly 80% of the business community in this country, and we thought it fitting to adequately address the needs of this growing sector. We are very focused on ensuring that we provide a successful platform for businesses," said Carlyle Roberts, Vice President for Business Solutions.
"We are focusing on mobility and we've put together some big business tools to assist our small businesses." During the month of October, BTC small business customers will be able to take advantage of the company's new WiFi dongles, Samsung LTE tablets and a variety of bundles. With the WiFi dongles, SMB's can operate their businesses anywhere they are. BTC is also offering Samsung LTE tablets. "We've found that a number of small business customers are taking advantage of these new tablets, and are using them as point of sales machines," Roberts continued.
BTC will also offer special rates when customers bundle their services. "Small business customers can enjoy special savings of up to 40% when signing up for products and services." The company is making it easy for small businesses to sign up and take advantage of these offers. By contacting the BTC Business Solutions office at 302-7700, customers can make an appointment for a customer sales representative to come to them.
BTC has partnered with The Bahamas Chamber of Commerce, First Caribbean International Bank, Cost Right and Protech Security. There are a number of events planned for the month, which will climax with a Small Business Pop-Up Fair at First Caribbean Bank at the Mall at Marathon on October 27th.