PM Christie is troubled after Opposition Leader's
exposé
to Parliament – Focus now turns on NIB Chairman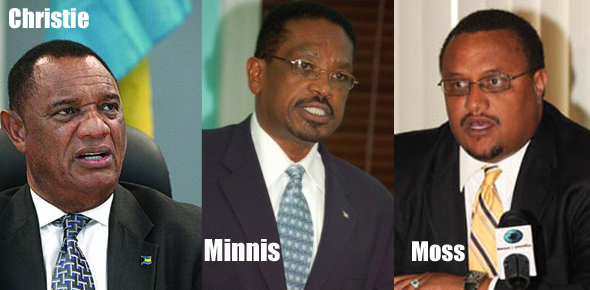 Nassau, Bahamas — More shocking revelations coming out of the National Insurance Board appears to confirm that Prime Minister Rt. Hon. Perry Christie may have to sack his Chairman of NIB Gregory Moss.
A controversy is now brewing that stems from questions first tabled on the floor of the House of Assembly by the leader of the opposition Dr. Hubert Minnis.
More than two weeks ago FNM leader Dr. Minnis questioned the government on a guarantee instructed by NIB Board Chairman, to pay Doctor's Hospital for a medical conditions for a woman, which was in breech of the policy of the Board.
Dr. Minnis tabled on the floor of the House – more than two weeks ago – the following question:
"Is the Minister aware that on the 28th July, 2012 the Senior Deputy Director of the National Insurance Board, issued and signed a  "Letter of Guarantee" addressed to Doctors hospital, which latter guaranteed the payment of $15,000.00 in medical expenses on behalf of the person named in that letter?
The Leader of the Opposition then further in his probe to the House ,asked the Minister: if he was aware that the medical treatment which was guaranteed to be paid by NIB was not an industrial injury and therefore a receipt of an industrial benefit were the only entitlements under the Regulations of the National Insurance Act?
In that same sitting of the Parliament the Opposition Leader further sought the government's confirmation to the guarantee letter and questioned the authority by the Chairman of the Board.
The revelations by the MP for Killarney was greeted with silence by the government and now today Christie may have to fire the Board's Chairman.
Bahamas Press found in our garbage bin copies of the minutes of the Board Meeting at NIB and a letter of the Guarantee issued by the Board to Doctor's Hospital.
In one section of the minutes a Board Member who remains nameless told the Board that the Chairman may have compromised his position. We warned Christie of his board appointments when they were made earlier in the term and how individuals not loyal to his Party would bury the Administration. Now THIS!

From the looks of these developments not only will Algernon Cargill be sacked from NIB, but it appears as if the Chairman will follow?
We are hearing Prime Minister Christie is fuming over the revelations and it appears as if major shakeups could come before the Leader of the Opposition returns to the House.
We are told Prime Minister Christie has scheduled a meeting with his NIB Chairman this coming Monday morning. Perhaps after that meeting there could come a major announcement from the government.
We report yinner decide!