We were not on facebook when we carried this story. But here is what happened when Carl Bethel was minister of education. His ministry officials at the time denied this to be genuine. Papa had good reason to fire him.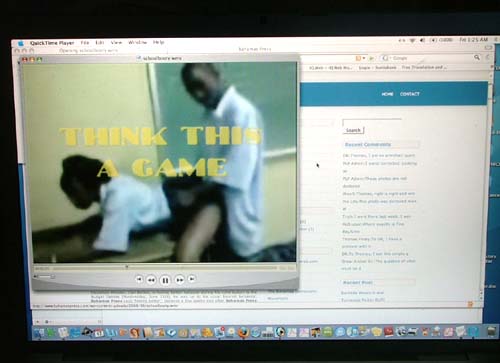 Click to download and view this SEX CLIP at Doris Johnson High School: schoolbooty.wmv
This photo is what's being practised in classrooms around the country both public and private, passed on from cell phone to cell phone and placed on DVDs. Minister of Education Carl Bethel on the other hand lectured Parliament about ETHICS and later went on record saying that teachers are giving students too much homework, AMAZING! Bahamas Press believes that his comments were all due to the fact that the minister's son was caught with his pants down, having sex with a minor 13 year old at Queen's College. It is called Statutory RAPE when that is done! And still no word from the minister, the school nor the police has yet come forth to the public on this matter. Now we see why the Bahamas is number one in the world when it comes to rape, LOOK WHAT IS HAPPENING IN CLASSROOMS OF THE COUNTRY!
Click to VIEW SEX CLIP at Doris Johnson High School: schoolbooty.wmv