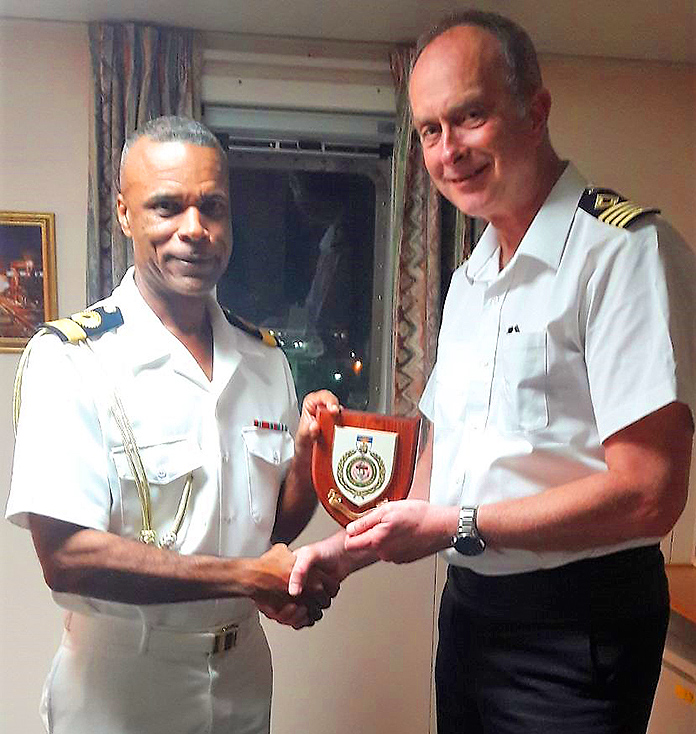 Coral Harbour Base, 25 JAN. '18 (RBDF): Commander Defence Force Commodore Tellis Bethel recently paid a courtesy call on Captain Stephen Morris aboard the British Royal Navy support vessel MOUNTS BAY. The British Officer and Commodore Bethel discussed matters of mutual interest during the brief visit.
After completing Staff Course at Royal Naval College, Greenwich in 1988 Stephen Captain Norris served as a Navigator prior to attending the Principal Warfare Officer (A) course in 1989. Since then, he has been assigned to numerous fleet in several command positions and also in the Warfare Staff at Fleet HQ Portsmouth where he held positions as the Fleet Seamanship Officer.
More recently, he was appointed command of RFA MOUNTS BAY in August 2017. That vessel provided relief and humanitarian aid to the island of Dominica during the aftermath of Hurricane Maria in November of last year.
The visit concluded with an exchange of pleasantries by Commodore Bethel and Captain Morris.