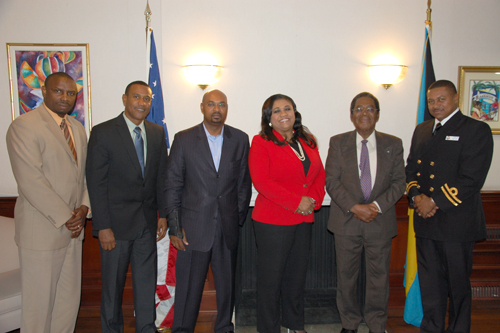 By Oswald Brown
WASHINGTON, D.C. — Two high-ranking officers of the Royal Bahamas Defence Force (RBDF) and an information specialist with the Ministry of Finance who are taking security-related courses here in Washington, D.C., visited the Bahamas Embassy, 2220 Massachusetts Avenue, N.W. on Monday, October 28, 2013.
Senior Lieutenant Carlon Bethel, Operations Officer with the RBDF, and Mr. Rickcardo Miller, who is with Ministry of Finance's Department of Information Technology, are in the final week of their six-week course in cyber security at the Center for Hemispheric Defence Studies, National Defence University. They are scheduled to return to The Bahamas on Saturday, November 2.
Meanwhile, Senior Lieutenant Ricardo Barry of the RBDF is a graduate student at the Center for International Security Studies, National Defence University, working towards a Master's Degree, which he hopes to complete by next July.
During their visit to the Embassy, the trio met with His Excellency Dr. Eugene Newry, Bahamas Ambassador-Designate to the United States; the Hon. Paulette Zonicle, Bahamas Consul General to Washington, D.C.; and Mr. Chet Neymour, Deputy Chief of Mission.
According to its prospectus, the six-week course being taken by Senior Lieutenant Bethel and Mr. Miller include a four-week on-line phase and two-week resident phase. The on-line learning system Blackboard and e-mail are used during the on-line phase and participants are required to "interact with their classmates and professors in asynchronous as well as synchronous sessions." They are also required to read an average of 80 pages per week.
"In the resident phase the course is conducted in a combination of individual study, discussions of the literature, conferences and panels, case study and exercises," according to the prospectus. "It is expected that the students read an average of 60 pages per day. At the end of the course each participant will receive an individual evaluation, with grade."
According to the prospectus, upon completion of the course the students will be able to:
1. Evaluate the importance of cyber security; understand the cyber risks to national and international security in developing and developed states.
2. Describe the risks of cybercrime, cyber terrorism, and cyber war.
3. Evaluate different paradigms for cyber security and determine the approach that best applies in an individual country.
4. Assess the strengths and weaknesses of the various international and national cyber security strategies.
5. Understand the role of government and the private sector in cyber security and critical infrastructure protection.
The course is co-hosted by the William J. Perry Center for Hemispheric Defense Studies.