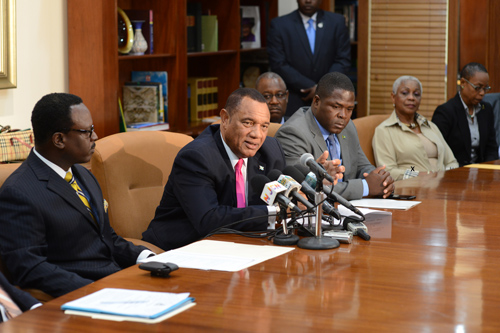 Nassau, The Bahamas – A National Festival Commission has been established to oversee the upcoming first-ever National Festival to be held in 2015. The announcement was made Wednesday, October 30, 2013, during a press conference at the Office of The Prime Minister.
Prime Minister Perry G. Christie said that this initiative was 'foreshadowed' during his attendance at a bilateral meeting with Chinese president, Xi Jinxing, in Trinidad earlier this year. He added that he also mentioned it in his contribution during the 2013-2014 Budget Debate in parliament.
"This festival is part of our overall plan to put Bahamians back to work," said Mr. Christie. "It will impact a cross-sector of persons, from artisans and crafts persons to entrepreneurs who wish to tap into opportunities that will be available once this project is up and running,"
The Commission has been given the mandate to 'conceptualise, organise and launch' a National Festival whose mission is to embrace Bahamian culture and seek to 'encompass' the entire country in order to stimulate sustainable economic opportunities for Small and Medium Enterprises (SME's).
"The goal of this economically driven undertaking is to ultimately expand the Bahamian economy by creating opportunities for employment and entrepreneurship by promoting the participation of Bahamians and visitors in the Festival through the sale of costumes, musical performances, other forms of entertainment, arts, crafts, cuisine and other creative saleable art forms," said Mr. Christie.
The Commission is chaired by former banker, Paul Major and other members include: Calvin Balfour, Acting Permanent Secretary, Ministry of Youth, Sports and Culture; Simon Wilson, Deputy Financial Secretary, Ministry of Finance; Robert Sands, Ed Fields, Anthony Ferguson, I. Chester Cooper, Felix Stubbs, Fred Munnings, Jr., Dr. Barry Russell, Max Gibson, Mrs. Patricia Mortimer, Obie Pindling, Mrs. Inga Bowleg, Ms. Muna Issa, Cameron Symonette, Jaime Dingman, Antonius Roberts, Ms. Shanae Strachan, Ms. Brandace Duncanson, Office of the Attorney General; Mrs. Nicola and Ms. Reagan Collie, Ministry of Tourism. Mrs. Arlene Nash Ferguson is the Chief Administrator of the Festival Commission Secretariat. Technical resources provided by Winston Cooper, Percy Francis, Arthur Gibson, Leslie Johnson and Chris Justilien.