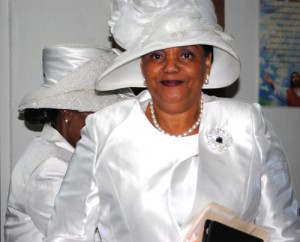 Nassau, Bahamas – The newly-elected President of the National Baptist Women's Department, Rev. Sabrina Pinder, is calling on the women of the Bahamas to work together to save the nation's young people by recommitting themselves to instilling Christian values into our homes. She called for the nation to get back to considering itself a Christian nation, so that the values and principles of Christianity could help to save the nation.
Rev. Pinder was officially instated as President in a Service of Praise & Thanksgiving on Thursday, October 3 at St. Mark's Native Baptist Church. Her husband, Reverend Carrington Pinder is the leader of the church where the service was held and together, veteran Baptists from all over came together to congratulate them on their long-standing commitment to the Baptist Community, their church, and to each other.
Remarks were brought by acting Governor General, Dame Margeurite Pindling, who implored the Baptist women to continue their standard of excellence and renew their commitment to nation building, reminding them that: "The hand that rocks the cradle rules the world."
Rev. Pinder said her appointment will be an active one, confident that by promoting Christian values in the homes, Bahamian women can reverse the current negative statistics in society for a more positive and bright future for the Bahamas.
The Baptist women came out in full force in all white for the ceremony, where Rev. Dr. Michael C. Symonette delivered the spoken word.
The National Baptist Women's Department highlighted the occasion by presenting scholarships to students of several schools, including: Jordan Prince William High School; Charles W. Saunders High School; Bahamas Baptist Community College; College of the Bahamas; CR Walker Senior High; CC Sweeting High School; and CV Bethel High School.