Crime in Grants Town is now beating down the doors of the Church!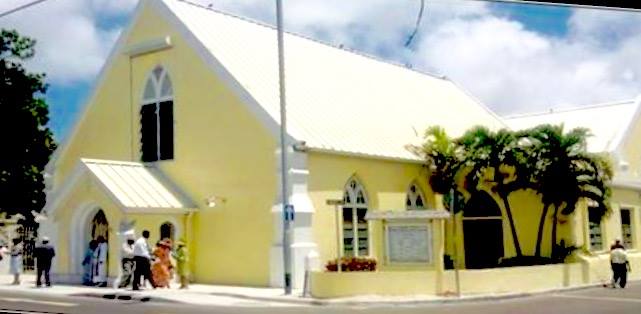 Nassau – Bahamas Press is reporting tonight two foil robberies at the historic Grants Town Wesley Methodist Church.
Our intelligence on the ground in the community confirm several men will be brought before the courts on charges after they broke into the historic church and attempted to remove from the sanctuary "holy instruments".
The bandits first made good their entry into Wesley Church on Sunday night perhaps thinking that the church money was inside. After scaling the thick walls and breaking windows, the vandals got inside attempting to disconnect the church's sound systems. But low and behold while they were inside stripping the church, outside were the men and women in red strips monitoring their every movement inside. The bandits are believe to be apart of a criminal robbery gang. They were all caught by police!
But what occurred on Sunday didn't teach the second crew anything. Come last night [Monday] another wave of robbers committed the same act; breaking their way into the church attempting to strip the items again. Police – just like the night before – were waiting outside and again caught the bandits who were surrounded outnumbered.
We at BP know the police are doing an excellent job, and in this case where heartless souls seek to vandalize the cathedrals, we hope and pray the criminals next time would not make it out walking on two legs.
The group will be formally charged this week and we hope "DA HOUSE OF PAIN" [Da Police] delivers the wrath of the state on the bandits. Don't play with dem! Cause…If ya could thief from the CHURCH ….YA WORKING FOR DA DEVIL!
We report yinner decide!