ARMED ROBBERS CAUGHT AFTER SHOOTOUT WITH POLICE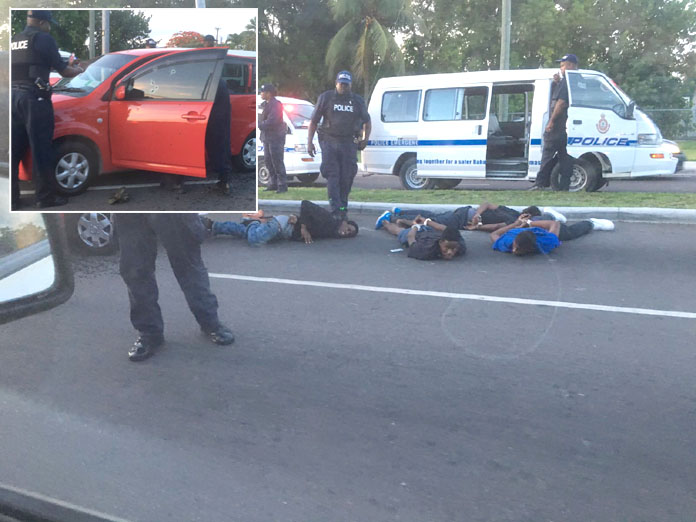 Nassau, Bahamas – Four males are in shortly after they committed an armed robbery and led police on a high-speed chase on Thursday.
According to reports, shortly before 8:00pm, three males armed with a handgun robbed the proprietor Laundromat on Charles Saunders Highway of a handbag and cash before fleeing in a red Honda Fit car driven by another male.
Police immediately sent out an All Points Bulletin (APB) for the vehicle. A short while later officers on patrol spotted the vehicle in the Nassau Village area. A chase ensued that ended on Robinson Road near Marathon Road where the vehicle came to a stop after it crash into another vehicle. The four male suspects emerged from the vehicle and opened fire on police. Police returned fire and shot two of the suspects. Police immediately arrested the four suspects and recovered a handgun and all of the stolen property.
Two of the suspects were transported to hospital where they remain in serious condition under heavy police guard.
Police suspect the four males to be responsible for a number of armed robberies over the past weeks and can confirm that one of the suspects is on bail for Armed Robbery.
ELEUTHERA MAN IN CUSTODY FOR DRUG POSSESSION
Consistent with the Commissioner's Policing Plan for 2016, officers from the Eleuthera Division arrested an adult male from Governor's Harbour after they seized a quantity of dangerous drugs on Thursday 23rd June 2016.
Reports are that shortly after 11:00am, officers from the Eleuthera Division were on routine patrol in Governor's Harbour, when they saw the suspect walking with a backpack acting suspiciously. The suspect on seeing the officers fled on foot. After a short foot chase the officers caught the suspect.
The officers conducted a search of the suspect's backpack and uncovered two (2) pounds of marijuana. The suspect was subsequently arrested. The officers then conducted a search of the suspect's home, where they uncovered an additional two (2) pounds of marijuana.