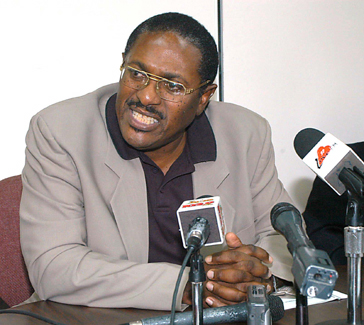 Remarks Bradley B Roberts at Official Launch Of Candidacies of Sen Michael Darville & Atty Gregory Moss June 25th 2010
Today at 4:16pm
Remarks By
Bradley B Roberts
National Chairman Progressive Liberal Party
Official Launch of Next MP's for Marco City and Pineridge Constituencies
PLP House Freeport Grand Bahama
June 25, 2010
Party Leader
Deputy Party Leader
Members of Parliament
Stalwart Councilors
Party Officers
Party Supporters
Ladies and Gentlemen
I am delighted as your National Chairman to be here in Freeport tonight to join party supporters and well wishers in launching the candidacies of the next Member of Parliament for Pineridge Dr. Michael Darville and next Member of Parliament for Marco City Mr. Greg Moss.
Some of you may recall that I was also here in Freeport in 2001 as the then National Chair when we launched the candidacies of two female giants who brought home the bacon for the Progressive Liberal Party. We did it in 2002 and we shall do it again in 2011 or 2012. Voters of Grand Bahama who bought the propaganda of proven leadership of Hubert Ingraham and the FNM have paused and reflected on the level of destruction the so called "simply the best" leader of the FNM have brought on them, their families and their friends.
Since May of 2007, nothing of positive substance has happened here in Grand Bahama. The many promises made by Neko Grant have not seen the light of day. The many promises made by Zhivargo Laing including the solemn promise of the creation of 10,000 jobs within one year never materialized, but instead almost the same numbers have lost their Jobs. Then there were the numerous promises by the worst Minister in the FNM Government, Kenneth Russell, who has been an absolute abject failure. Kenneth Russell boldly promised to only build perfect homes, which has blown up in his face big time. The other two FNM Grand Bahama MP's are not worth mentioning as they only make up the numbers.
Ladies and Gentlemen, the sum total is that the five FNM MP's for Grand Bahama and the Two Senators have miserably failed you the people of Grand Bahama. They are clueless, visionless and therefore useless and have been unable to perform for and on behalf of Grand Bahama.
The FNM Ministers who collect big fat salaries and benefits have failed bitterly to perform for and on behalf of the Bahamian people. They are a tired worn out miserable bunch that have no shame and will come to you the people and ask to be re-elected. Grand Bahama, I invite you to simply tell them, sorry by brother or sister – you failed to perform on our behalf, therefore, we cannot support you.
I am told that the FNM is having a conclave here in Grand Bahama this weekend which they have labeled, the way forward. I say to all thinking voters here in Grand Bahama that the way forward is to Vote PLP all the way. Vote them out. That worthless non performing FNM- vote them out.
The Progressive Liberal Party will rescue the Bahamas from the destructive hands of Hubert Ingraham and the FNM and return hope and opportunities to the thousands of Bahamians who have been driven to a state of hopelessness and misery by a visionless and an uncaring FNM Government. Grand Bahama, are you tired of this miserable life brought on you by the failed policies of Hubert Ingraham, Kenneth Russell, Neko Grant, and the spin doctor and failed economist Zhivargo Laing?
Their lists of failures are long: Unemployment is escalating daily here on Grand Bahama and the FNM have no answers for the vexing problem of the strong desire of Grand Bahamians to work to provide for their families.
The latest to join the roles of the unemployed as of June 30th will be the hundreds of six month temporary workers, many of whom were led to believe that the temporary status would have been extended or made permanent.
Staff at ZNS in Freeport and New Providence who have been in the employ of the Bahamas Broadcasting Corp will be terminated by Hubert Ingraham and his cold hearted FNM Government.
Crime in our Bahamaland continues to grow and established new embarrassing records on a daily basis. This week a popular Blog carried the headline "BLOOD GUSHING DOWN THE STREETS OF THE BAHAMAS LIKE WATER AFTER A HEAVY RAIN, 4 MURDERS IN 36 HOURS. Yet PM Hubert Ingraham, the Chief of National Security, and his Jr Chief of National Security, Tommy Turnquest, jet half way around the world to hobnob with VIP's in South Africa to watch soccer games, while leaving the National Security Political Leadership void. This is cruel, uncaring, reckless, and a clear case of abandonment and dereliction of duty in this very sensitive area of governance.
Oswald Brown in his letter was 1000% correct in his observations and conclusions. Ossie Brown in part said "It is absolutely appalling that Prime Minister Hubert Ingraham, at a time when the Bahamian people are suffering from the cruel pangs of his draconian budget cuts, can travel halfway around the world to attend a sporting event. It makes no difference whether it's a private visit or not, which common sense dictates it should be; it is the perception that counts."
Notwithstanding the spectacular deterioration in every area of national life in our once fair Commonwealth in three short years, Hubert Ingraham and the FNM accept no responsibility for this national debacle that occurred under their watch. This is a gross violation of a most fundamental tenet of leadership – RESPONSIBILITY.
With your kind indulgence, I will share just a few metrics:
• The Tribune of 18th June, 2010 reported that the International Labour Organization says that The Bahamas tops the region's urban unemployment.
• The CIA World Factbook shows that The Bahamas' economy has shrunk 8% over the past 3 years; from a robust positive growth of 3.5% in 2006 to a 4.5% contraction by 2009. Only Trinidad's economic performance was worst than that of the Bahamas in this region. Globally, the Bahamas ranks 157 of 189 countries assessed for their economic performance. This is a clear statistical reflection of failed leadership.
• A World Bank Index on the ease of doing business has dropped The Bahamas' ranking from 59th last year to 68th this year.
• Government admits that at the Department of Statistics' interim 2009 analysis:
o The national unemployment rate is 14.2%.
o The Grand Bahama unemployment rate is 17.4%.
o The national unemployment rate had almost doubled in 1 year (from 8.7% to 14.2%).
o The Grand Bahama unemployment rate had almost doubled in 1 year (from 9% to 17.4%)
• We can safely deduce that:
o the unemployment rate for Family Islands is higher than Grand Bahama.
o The 2010 unemployment rate in The Bahamas and Grand Bahama is higher than the 2009 unemployment rate.
• The Misery Index is at unprecedented levels
My Brothers and Sisters, time does not allow me to tell you of the many failures of Hubert Ingraham and the FNM. I returned last year to become Chairman on my Party as it was clear to me that Hubert Ingraham had lost his senses and had become a dictator and believed that he was now the Alpha and the Omega. Hubert Ingraham and the FNM are BAD for the Bahamas and by their failed policies have taken our people considerably backwards. The evidence is there for all to see. Many of the gains made by Bahamians have been lost. The misery index has risen to an intolerable level and it is time for the Bahamian people to show Hubert Ingraham the door.
I have come tonight to lend my support to the candidacies of two outstanding Bahamians who I am satisfied have their heads and hearts in the right places. Consistent with the democratic culture of the PLP, we came by this decision after a long, exhaustive, democratic, and transparent selection process at both the constituency and national levels within the party.
Dr. Darville and Mr. Moss represent a cadre of young Bahamians wishing to offer themselves for Public Service. We believe that they are uniquely suited for the times with a broad appeal to the people of the Grand Bahama community. They believe in people first and their concerns including expanded economic empowerment of Bahamians and a commitment to comprehensive national health care for all people regardless of their ability to pay. The Progressive Liberal Party is very confident of the civic, business, and political contributions of both Dr. Darville and Mr. Moss.
They are both from humble back grounds and are committed to putting their shoulders to the wheel in following a properly considered plan and program to restore hope, empowerment, the dignity of employment, social justice and fair play, and prosperity to the neglected people of Grand Bahama.
I call on all PLP's and all persons in the wider community who desire a better way of life.
I invite those who desire a government that believes that the care for human life and not its destruction is the only objective of good government.
I invite all those who desire a democratic, consultative, and responsive government who will NEVER place the wants and ambitions of a select few above the fundamental needs of the many.
I invite those who desire a government that puts people above things such as buildings, asphalt, and balance sheets.
Those who love freedom and believe that public policy must necessarily and accurately reflect the collective will, desires, aspirations, and sensibilities of the Bahamian people are invited to join us in our quest to rescue this country. Join us as we work shoulder to shoulder and I assure you that we will leave no stone unturned nor rest until we rid this country of Hubert Ingraham and the hapless, heartless, and uncaring FNM who have clearly lost the moral authority to govern this country.
PLP
PLP
P…L….P
Good night and God bless you.