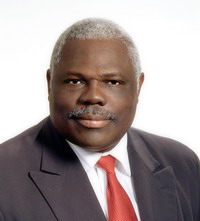 Nassau, Bahamas — As reported yesterday Kenneth Russell is back home Saturday night relaxing with family and supporters of the High Rock constituency of Grand Bahama where he intends to offer as a candidate in the upcoming General Elections.
A war of words between the former Minister for Housing and the Prime Minister erupted Friday in the Churchill Building in downtown Nassau, where Russell was fired as Minister shortly after 9:30am.
In interviews with the media, a visibly disturbed Russell told reporters he intends to offer for the people of High Rock, which is now the East Grand Bahama Constituency.
Around 6:25pm Saturday evening, Bahamas Press caught up with the former Minister for an exclusive interview. Russell had just wrapped up a meeting with his team in his Grand Bahama office where he made his teleconference with us.
Yesterday Russell came just short of calling the Prime Minister a dictator offering the words "TYRANT" as he called for FNMs to begin to express their views.
Russell, holding nothing back, told BP, "We [his family and supporters] are democratic people. If the Prime Minister calls for a runoff in High Rock and someone else wins, we will all battle behind that person to win. But we believe it must be a democratic process."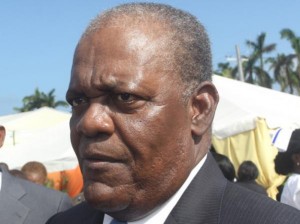 Prime Minister, Rt. Hon. Hubert Ingraham will land in Freeport on Sunday [today] to meet with all FNM Grand Bahama supporters. The meeting will take place at the Christ the King Hall at 4pm. As party insiders tell us, Mr. Ingraham plans to make his position clear to the organization and explain his decision to ax Russell on Friday.
When asked if he intends to join the meeting Russell said, "I am an FNM. I will attend the meeting at 4pm with the Prime Minister and what will happen will happen. If I am asked to speak, I will speak."
In a press statement on Friday, the Cabinet announced Russell was stripped of the Housing responsibilities, stating the actions came, "…out of conduct by Mr. Russell inconsistent with his ministerial duties."
When asked about such breeches Mr. Russell told BP, "I assume he [Ingraham] would tell me what I breach, because I do not know what I breach."
Russell also explains the vision planned for the eastern end of Grand Bahama by a developer, which was turned down by the government four times.
"The people of Grand Bahama need jobs, and if I break Cabinet Codes trying to get my people jobs, then tough luck."
The candid speaking former Cabinet Minister further shared his thoughts on Immigration and the recent sale of BTC to Cable and Wireless with Bahamas Press. We shall report more on those comments in the second report on this interview later.
Declining to share what his comments will include when Parliament sits on Monday, Russell however assured Bahamas Press that he will speak to the People of The Bahamas at the Monday sitting.