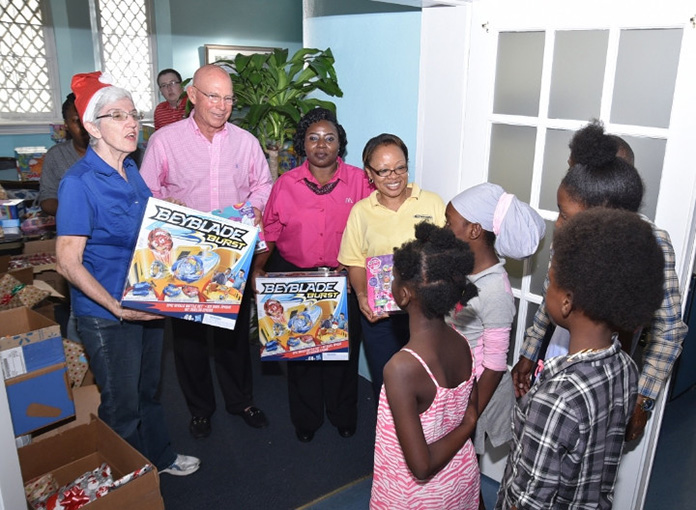 Nassau – Outfitted with smiles as bright at the sun, 150 children from the Bain & Grant's Town community paraded into St. Andrew's Presbyterian Kirk for the 3rd Annual Children's Christmas Party sponsored by Sandals Royal Bahamian Resort and McDonald's.
The children, most of whom are no strangers to the church, are members of the Sunday school and outreach and mentorship programs held at the church throughout the year. They came together to celebrate in a fun and safe environment while reinforcing the sentiment of the Christmas holiday.
"It's the whole element of Christmas giving and what the good Lord would want us to be — more Christ like in thoughts, deeds and actions," said Robin Brownrigg, Elder at St. Andrew's Presbyterian Kirk.
The afternoon's event consisted of playing games, singing Christmas carols, an impromptu rendition of 'This Little Light of Mine' from one the littlest party-goers, and of course toys. Through an ongoing commitment to youth and community development, Sandals Royal Bahamian donated an assortment of toys for boys and girls ages 3-16.
"Sandals has partnered with us for the last three years in providing gifts so we use this as an opportunity to give these gifts to the youngsters," said Brownrigg. "We recognize Sandals as being a huge partner with us and we feel honoured that we can do something special like this with them, on an annual ongoing basis."
"It gives us immeasurable pleasure to be a part of this initiative spearheaded by The Kirk," said Lazar Charlton, Public Relations Manager at Sandals Royal Bahamian. "Seeing the look of excitement and amazement on their little faces when they tore the wrapping away from their gifts was payment enough for us."
Toys were also donated by Inner Wheel, which is a female civic club with links to Rotary International.
Each year, McDonald's provides lunch for all of the children. "Our partnership with McDonald's has been wonderful over the years," Brownrigg said. "Earla Bethel, President of McDonald's and also Clerk of Session at the church, has always graciously donated all of the food and you can tell from the looks on the children's faces that they were 'loving it'."