PLPs are holding steady on Grand Bahama as Christie is also set to land in FNM country next week!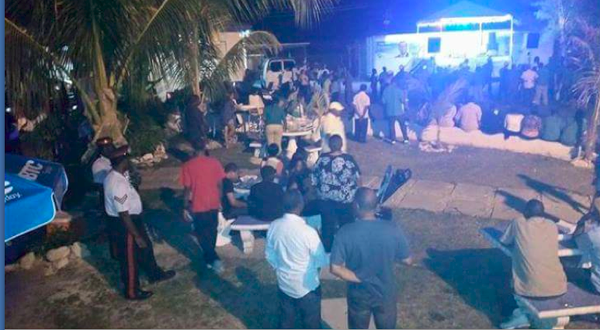 Freeport GB – While the unfortunate turmoil deep inside the Free National Movement – WITH CANNIBALISM EATING AT THE HEART OF THE ORGANIZATION – the fight gets nastier by the minute,; DNA supporters are in FNM territory gathering the bones and are raking up huge FNM supporters at a rally on Grand Bahama last night.
Only Bahamas Press was live in the second city where we can tell you large numbers of FNM supporters have GONE GREEN!
One supporter at the rally was a former FNM council member as indeed some like BP still are in shock how the FNM country appears to be going GREEN! Even former FNM MPs Kenneth 'Ingraham is a monster' Russell and Vernea 'Da Village Idiot' Grant appears to all now be supporting Branville's Party!
With this momentum keeping up, it looks as if the DNA will become the official opposition after all.
Prime Minister Rt. Hon. Perry G. Christie will land on Grand Bahama come next week just after his budget communication to Parliament. Christie, we are told, will be coming to unleash the final blow to the FNM and perhaps will encourage those who were FNMs for many years to come home to the PLP; the Party with a big tent now housing may former supporters of Sir Cecil!
PLP Chairman Bradley Roberts have begin making the way for Christie's homecoming to Grand Bahama and landed on the island Friday evening.
As some say following the nasty, dutty fight in the FNM, "It all goes downhill from here for the FNM as Ingraham plans to challenge Minnis citing poor weak leadership inside the party!
We report yinner decide!