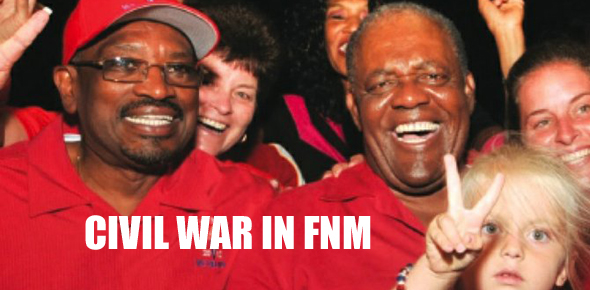 By Jerry Roker for Bahamas Press
The proverbial 'mess' has hit the fan.
The Old Guard FNMs have once again stepped forward to express their total dissatisfaction with their Leader, Dr. Hubert Minnis. But this time, party Chairman Michael Pintard is hitting back. Mr. Pintard has bemoaned the fact that former Cabinet Ministers in previous FNM governments and senior party officials are running to the press with criticisms of Dr. Minnis, by-passing party forums for such undertakings. While I fully understand and agree with the Chairman's thinking on this matter, it was his parliamentary members who poked fun and otherwise applauded those renegade PLP MPs who derided their own government almost on every major issue, in Parliament, when they had opportunities to put their respective positions directly to the party internally.
Mr. Pintard is right. The Old Guard does have an agenda and they will avail themselves of any method that they believe will assist them in carrying it out. The political cannibalism in both parties must stop. It does not serve any useful purpose other than the narrow and selfish political interest of those perpetuating it. You have to be some kind of 'special' 'special' character to choose to vent publicly about your party and/or its leader, when you can do so at the internal party level. If one were denied the opportunity to put one's position internally, then, there can be a case for one venting elsewhere.
Who does the Old Guard think they are? Owners of the FNM with powers to discipline and reprimand any officer who has a style or approach not to their liking? My God, FNMs have spoken decisively twice in three years in favor of Dr. Minnis. What else you guys want? Ingraham perhaps.
If I may, what goes around comes around. When the renegade PLP MPs took the PLP government and PM Christie to task, the FNMs were in their glory. Their MPs spoke all sorts of stuff about PM Christie and his government and generally sought to gain whatever political mileage these happenings could accrue.
Now that their Old Guard has once again turned on their leader in a public, but clandestine manner, my guess is that they are now feeling some kind a way.