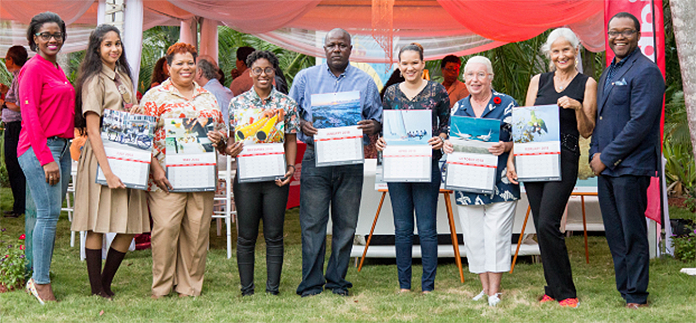 Nassau, Bahamas – In a display of vibrant color and captivating imagery, Scotiabank unveiled the 2018 'Exceptional Moments' calendar during the Bahamas National Trust Wine & Art Festival member's night. The twelve winning images were selected from a pool of hundreds submitted by photographers vying for a spot in the annual calendar. Photographers were tasked with submitting images that depicted their interpretation of an exceptional moment in The Bahamas.
The eleven winners walked away with $200 for each image selected, with one winner having two images selected. The final images came from a cross section of local talent with winning entries from Nassau, Abaco and Freeport. "I took a photo of a typical day on Bay Street. The photo shows an ordinary scene for people living here, but it's an exceptional moment for many tourists in our picturesque country and historic downtown Nassau." said 17 year old Leandra Moonsammy, the youngest contest winner, "It's a reminder to stop and appreciate your surroundings."
The calendar winners were the guests of honor in the Scotiabank private lounge during the Festivals members' night. As they enjoyed seeing their photos displayed on large canvases, the Festival attendees also got an exclusive preview of the calendar photos before they are made available in branches.