Three men made it to shore in rough seas…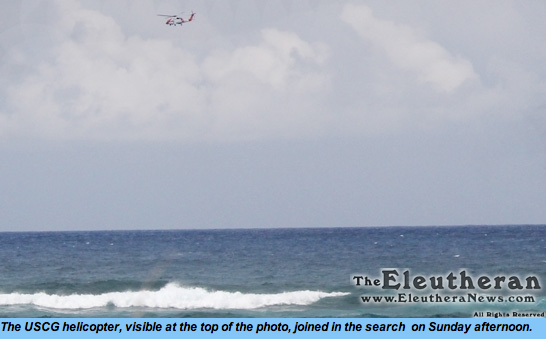 Hatchet Bay, Eleuthera – What started as a rescue mission this morning is now a recovery mission as teams in search for the men called off the search after rough seas in the area made the search difficult.
Bahamas Press correspondents are on the ground in Eleuthera where yet potential tragedy is developing after what should have been a leisurely day of fishing turned into a rescue operation.
Reports from the area indicate that around 9:00 am five (5) men from Hatchet Bay left an area called Unit 2 Beach on board a 13ft. tin boat.
The group reportedly encountered bad weather on the Atlantic side, which resulted in the boat capsizing.
BP have learned that three men from the voyage were able to swim to shore after their boat capsized on the island's 'north side'.
However, two men were not so lucky. So far, up to 7pm, they were still not discovered alive.
We are withholding the names of the two missing men. The search will continue in the morning.
Three (3) of the men who reportedly swam ashore are reported to be in good health.
Officers of the United States Coast Guard (USCG) along with officers from the Royal
Bahamas Defence Force are also assisting in the search.
Another accident in Palmetto Point…
Palmetto Point, Eleuthera — Bahamas Press correspondents in Eleuthera can verify that there was a slight car accident in Rock Sound but no one was injured.
We've also learned that a man from Central Eleuthera, rumored to have been in accident, was actually at home and is alive, well and hadn't been out.
Meanwhile, a funeral service was held for an accident victim in Palmetto Point yesterday with another service for a second resident of that town slated for next week who died in a single car collision last week.
Plans are also underway for a victim who had remained brain dead in yet a third accident which occurred on the island earlier in the year. We can also confirm that white wooden crosses were placed on the roadsides to commemorate the lives lost this year as well as remind drivers to take caution. Some 6 fatalities and a toddler have become victims of traffic accidents on the island for the year.
THIS MIGHT BE CINCO DE MAYO AND YINNA MIGHT ENJOY YA DRINKS, BUT WE ARE BEGGING YOU TO BUCKLE YOUR SEAT BELTS, SLOW DOWN, DO NOT DRINK OR TEXT AND YOU MIGHT JUST ARRIVE ALIVE BAHAMAS!!!
We report yinner decide!