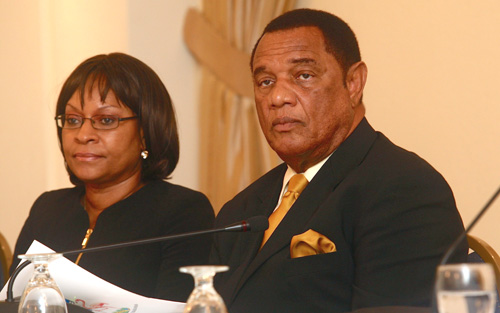 Nassau, Bahamas — The Government of The Bahamas embarked on the initial stages of liberalizing the mobile phone market in the country, November 12, when Prime Minister, the Rt. Hon. Perry G. Chrisite said that after 'years of waiting,' competition in cellular telephone services was imminent. His announcement was during a press conference held at the British Colonial where he introduced members of the new Cellular Liberalization Task Force.
Mr. Christie noted that advancement in mobile and broadband technology has revolutionized modern communication, and the changes have resulted in only positive implications for personal and economic development.
As such, while acknowledging the efforts undertaken by the Bahamas Telecommunications Corporation (BTC) to modernize their services, he affirmed that the move to liberalize the sector affords Bahamians more opportunities to benefit from and participate in the communications sector. He said that it is "critical that access to mobile and broadband technology becomes more affordable and accessible to everyone in our society."
In addition, he believes that coverage and service quality can be enhanced in the Family Islands; but also that the move to liberalize is integral to sustaining communication in challenging times: " There is also a need for improvements in coverage ( from Abaco to Inagua), service quality, network redundancy and resilience, the latter of which are particularly important in light of our country's vulnerability to natural disasters."
He explained that the Cellular Liberalization Task Force has been 'hard at work' in its quest to ensure that the Government selects the most qualified candidate as the second cellular service provider. To this end, he said that the Task Force enlisted assistance from several sources, including Utilities, Regulation and Competition Authority (URCA); the accounting firm, PricewaterhouseCoopers, and legal services from Charles Russell Speechlys LLP and Hogan Lovells law (both based in the United Kingdom). Further, the government also sought advice from Mr. Mark Sills (Trade Consultant to The Government of The Bahamas).
Members of The Cellular Liberalization Task Force include: Ms. Rowena Bethel, Mr. Ryan Albury, Mr. James Campbell, Ms. Michelle Grell-Bereux, Ms. Danya Parker-Wallace, Mr. Antonio Stubbs and Ms. Christine Thompson. Former Financial Secretary, Ms. Ruth Millar, Chairs the Task Force.