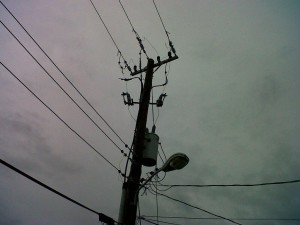 Bahamas Press is 1reporting problems with the electrical power supply in Grand Cay, Abaco at this hour as persons continue to suffer and battle with BEC for the past four years.
A resident reported to BP, "It is so disgraceful that a simple problem can allow the power to be off from 7:00am yesterday, and all night last night for over 85% of the Grand Cay residents. A wire came loose from a split bolt and probably move about 6-inches. This could have been fixed in about 10 mins but was not done.
"BEC has a worker on Grand Cay, who they pay by the name of, Oliver Cooper, and he spoke to, Mr. George Mackey, at the Marsh Harbour office who told him not to touch anything.
"The Chief Councilor by the name of, Roosevelt Curry, also spoke to Mr. Mackey explaining to him that the problem is simple and very easy to fix and also reminded him that they have a worker on Grand Cay who is capable of fixing the problem. However, he received the same answer that Oliver Cooper is not to touch anything.
"Today BEC was scheduled to collect revenue but they cancelled because they were shame to. They received numerous calls about the situation and they have failed to act upon it. We now wait to see how long it is going to take for them to come and fix this problem or if we have to endure another long night without power."
The People of Grand Cay needs the support of the Bahamas to tell WUTLESS BEC to come to their rescue!
FIT IT!